Sonsodo dump's old problems keep stinking, but new ones are sinking it
Story: GUILHERME |

ALMEIDA

|
12th July 2018, 01:49 Hrs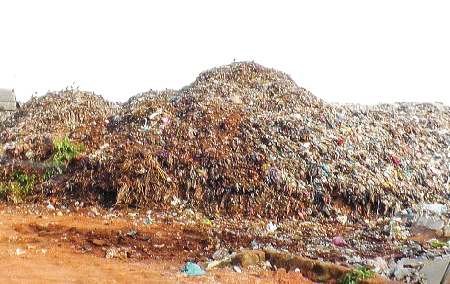 MARGAO
Alarm bells have started ringing in the corridors of the Margao Municipal Council as tonnes of unsegregated waste threatens to choke the waste treatment plant at Sonsodo for want of any mechanism to segregate waste generated in the city before it finds its way to the dumping site.
The moot question, however, remains unanswered – whether the civic body has any action plan in place to meet the grim scenario, given the ground situation which does not paint a rosy picture. The tender floated to outsource door-to-door collection of waste in segregated form is down and out after more than a year since the civic body had invited bids for the project. And, a comprehensive report compiled by the sanitary section on municipal solid waste collection (door-to-door) & transportation plan has been literally confined to the dusty record books of the civic body.
MMC officials and Fomento Green representatives agree that the 70 tonnes capacity per day waste treatment plant has reached a point of saturation, with civic officials admitting that Sonsodo plant receives waste much beyond its stated capacity on a daily basis. In fact, waste segregation has eluded the Margao Municipal Council despite the fact that the civic body had ventured into door-to-door waste collection. While the civic body has an army of 120-odd daily wage workers for door-to-door waste collection, waste segregated at source still remains a distant dream in the commercial capital.
As a result tonnes of unsegregated waste finds its way to the Sonsodo plant which was commissioned around six years ago. The unsegregated is a big threat as it could choke the 70-tonne per day capacity waste treatment plant and throw the mechanism haywire. In the absence of waste segregation, all kinds of waste, including wet, plastic, metal and medicinal reach the plant.
Making matters worse for the civic body is the fact that tonnes of unsegregated waste find its way to the commercial capital, with MMC Chairperson Babita Prabhudesai claiming that waste coming from the villages may be around 10 to 20 tonnes.
A glance at the project report on municipal solid waste collection (door-to-door) and transportation reveals that it may cost the civic body a whopping Rs nine crore to put in place a full-proof mechanism for waste management. This also includes the cost for induction of dozen odd compactors, rickshaws and recruitment of manpower, including labourers and supervisors.
The report was categorical in stating there is no systematic mechanism of segregation for recyclable waste in the MMC. "Segregation of waste is not practiced at the initial level. However, some amount of waste is segregated at the MSW plant site. This system was practiced during the commencement of door-to-door collection. Attempts were made to collect the dry and wet waste separately, but the system failed on account of requirement of workforce," the report stated.
"The mechanism of solid waste management in the civic body requires a reorganized model to meet the requirements of the MSW rules 2016. Major effort required in this regard is towards the improvement of waste collection."
Related news