Revenue recovery of `20.64 crore stares at MMC for next 10 months
Buoyed by success of recovery of last financial year, civic body remains optimistic
14th June 2018, 03:18 Hrs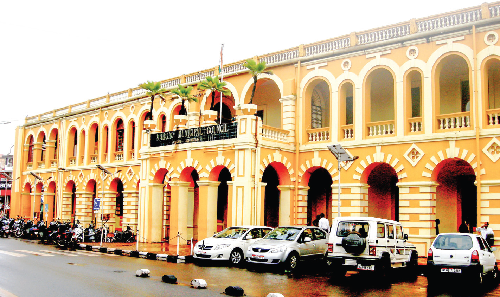 the goan I network
MARGAO
A whopping Rs 20.64 crore (both current and outstanding arrears) revenue recovery stares at the Margao Municipal Council as it has 10 clear months to get cracking and enrich the municipal coffers.
Even as the municipal employees are preoccupied with the exercise of issuing house tax and other bills to city households and business establishments, the question doing the rounds of the civic body is clear: will the civic body get close to the target?
Buoyed by the success of the tax recovery during the last financial year, thanks to Chief Officer Johnson Fernandes' innovative measures to recover the huge outstanding arrears, the taxation section remains optimistic.
Taxation officials maintained that the tax collection drive will yield the desired results if the civic body goes by the mechanism put in place during the last five months, which has earned the civic body handsome revenue.
That the municipal staff and employees have done a commendable job on the revenue recovery front, at least house tax, is evident from the fact that the revenue on this important front has doubled up from around Rs four
crore during the financial year 2016-17 to a little over Rs six crore in the last financial year 2017-18.
The positive trend continued in the first two months of the current financial year as the civic body mopped up a revenue of Rs 3.78 crore, including Rs 1.57 crore house tax, in April-May 2018.
A glance at the break-up of the revenue heads revealed that house tax (both current and arrears) tops the list and is pegged close to Rs 10 crore, around Rs 9.53 crore to be precise. House tax is followed by sanitation tax, known in the corridors of the civic body as the garbage collection tax, which is pegged at Rs 6.51 crore.
A senior official remarked that the Rs 20 crore tax revenue can be mopped up in the next 10 months if the mechanism put in place by the CO Johnson Fernandes is implemented in both letter and spirit. Currently, the taxation section is engaged in the process of issuing bills to the households across the city, which will then be served individually to the parties. "This process will start from June-end and will gain momentum by next month as household owners are expected to come to the civic body to make the payments," the official said.
Revenue recoveries, especially the house tax, running into crores of rupees has been the bane of the Margao Municipal Council. "The MMC has even recovered house tax to the tune of Rs 9-10 lakh a day, with the average recovery working out Rs 4-7 lakh a day in the last five months", MMC sources said.
Related news