Trees precariously standing on the edge of NH-17A could prove disastrous for motorists, fear residents
14th June 2018, 03:40 Hrs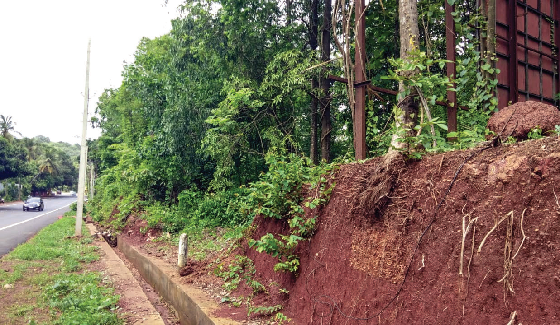 the goan I network
VASCO
What are the chances of a falling tree killing a person? One may say the chances are rare and that's what exactly happened on Monday at Zorint-Sancoale where an elderly lady sitting in a slow moving car was crushed to death when a coconut tree tragically fell on it.
A drive on the NH-17A (after Cortalim and towards the airport) where road widening work is on, roots of several trees are lying exposed (see pic). Residents fear that these trees which are situated precariously on the edge could fall on the busy road as a result of heavy monsoon winds proving disastrous for motorists.
A local complained, "In their rush to complete the road extension work, authorities have not taken any care about the safety of motorists driving on the road."
Authorities have, however, cited difficulties in tackling the problem. "The trees on different stretches of the highway are located on properties belonging to different landlords, making it difficult for authorities to act," explained a source at the Mamlatdar's office at Vasco.
Following demands from locals to cut those trees standing dangerously after the tragic incident, the Mamlatdar's office had sent a request to NHAI to produce details of the areas acquired for road widening work.
"The area acquired from landlords has been utilised for road widening work and the weak trees identified by locals are located in properties of different landlords and as such we cannot directly cut trees in their property," the source said.
"We have sought details of survey plans of land belonging to various landlords and we are also in the process of finding a solution, as we cannot put several lives at risk," the source added.
Government extremely careless while
widening roads, chides Jose Philip
VASCO: NCP State President and former minister Jose Philip DSouza has accused the State government of being extremely careless about safety of motorists while undertaking road widening works in Dabolim and across Goa.
"Who is responsible for the death of the woman after a coconut tree fell on a moving car at Zorint-Sancoale? There are so many trees standing dangerously on the edge of the highway."
"The hill-cutting work undertaken by authorities has left several trees with roots exposed. These trees will keep falling and people will keep getting injured. Chances are there that more innocent lives could be lost," said D'Souza.
"The government should have taken precautions while the road was being widened. Authorities should immediately intervene and cut trees that are standing dangerously or else a lot of innocent lives could be lost and the government will
be held responsible for and any law and order problem," warned D'Souza.
Related news