Debris along River Sal, waterways still awaiting clean up operations
13th June 2018, 02:59 Hrs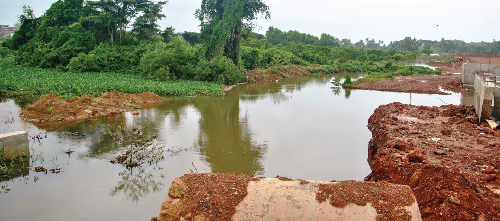 the goan I network
MARGAO
The monsoon has set in the State, but the debris lying along the River Sal and the waterways are still awaiting clean up operation by the PWD, National Highways near the culvert being built as part of the Western bypass work on the Nuvem-Seraulim border.
A visit to the site revealed that the debris dumped under the culvert under construction along the River Sal course has been removed. But, the debris strewn all along the river as well as on its embankment remains to be removed till date, raising fears amongst locals that the debris may cause free flow of water when the skies open with full fury.
Even the rain water flowing from behind the residence of TCP Minister Vijai Sardesai and joining the river Sal seemed to have slowed down because the debris as well as the wall built as part of the Western bypass work.
The site was inspected by Nuvem MLA Wilfred D'Sa and the ground reality at the site prompted his office to dash off a letter to the district Collector, South to take immediate action before heavy rains disrupt the flow of rain water along the river course.
A look at the land filling carried out by the National Highways to build the bypass along the Nuvem-Seraulim stretch revealed that water was found stagnated along the stretch right up to the culvert built for the bypass.
The Nuvem MLA has said that the debris lying along the river course as well as in the water catchment area on the Nuvem side of the bypass should be cleared immediately to ensure smooth flow of water during heavy rains. "These are the water catchment areas of the Nuvem-Seraulim villages which should be cleared of the debris and other obstructions, be it by the National Highways or the Water Resources Department before the entire area is inundated by the rain water,"
he added.
Related news