Traffic at Old Market circle to be manned by traffic signals
13th June 2018, 02:57 Hrs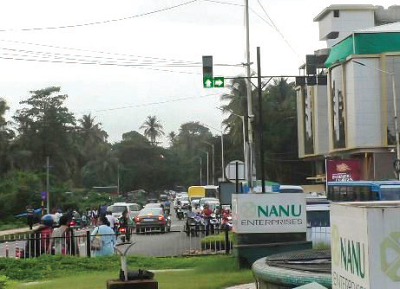 the goan I network
MARGAO
Motorists, beware. Traffic around the busy Old market circle – the junction at the entrance to the city – will now be manned by traffic signals and the traffic cops will only assist in regulating the traffic flow initially for a few days.
Installed under the Corporation Social Responsibility (CSR) by a corporate group at the initiative of Fatorda MLA and TCP Minister Vijai Sardesai, the Old Market circle is the second traffic junction in Fatorda that will be manned by traffic signals instead of traffic personnel. The busy Gogol junction was the first traffic junction in Fatorda to be manned by traffic signals. With the installation of the traffic signals at the Old Market circle, traffic junctions now left out in Fatorda constituency is the Arlem circle and the Nehru Stadium junction, which is presently under development.
Inaugurated by South Goa Planning and Development Authority (SGPDA) Chairperson Dr Renuka Da Silva in the presence of TCP Minister Vijai Sardesai, GSIDC Vice-Chairperson Sidharth Kuncalienkar and Margao Municipal Chairperson Babita Angle Prabhudesai on Tuesday evening, traffic at the Old Market circle will be henceforth manned by the traffic signals.
Deputy Superintendent of Police, Traffic, South Prabodh Shirwaikar said the traffic signals were successfully tested before being inaugurated on Tuesday. "We had a trial run of the traffic signals in the last two days and we are happy over the success rate. The timers have been set taking into account the traffic pattern at the Old Market circle," DySP Shirwaikar told The Goan.
Commenting on the installation of the traffic signals, the TCP Minister said the traffic signals have been funded by a corporate group under its Corporate Social Responsibility. "I had planned to install traffic signals at four traffic junctions in Fatorda constituency. We have completed the exercise at the Gogol junction and now at the Old Market junction," he said, adding that the traffic signals will make their presence at the Arlem traffic junction at the earliest.
Related news