Now, Sunset beach prohibits entry after sunset
13th June 2018, 02:55 Hrs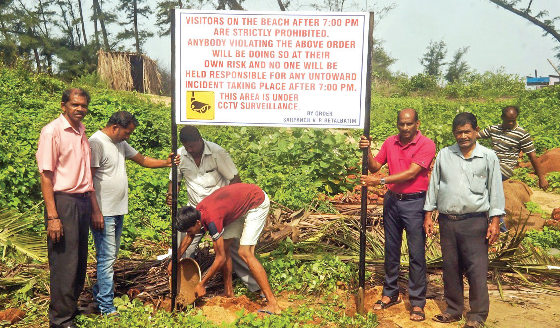 the goan I network
MARGAO
The next time you visit Betalbatim's secluded beach belt playing host to the Sunset and Lovers beach, don't be surprised if a sign board welcomes you with a warning prohibiting entry of visitors to beach belt after sunset.
Indeed, post-gangrape at Betalbatim Sunset beach and the murder of a Colva resident at the adjoining Lovers beach, warning boards have come up along the village beach belt, strongly prohibiting visitors on the beach after 7 pm.
Betalbatim Sarpanch Constancio Miranda, panch members and workers installed the warning boards at the entrance to the Sunset beach, with a clear warning that anybody violating the order prohibiting entry of visitors after 7 pm will be doing so at their own risks and that no one will be held responsible for any untoward incident taking place after the deadline.
While the board also warns the visitors that the area is under CCTV surveillance, another board has warned visitors that drinking on beaches is not allowed and that vehicles should not enter the sea shore without permission from the concerned authorities.
Says Sarpanch Miranda: "These warning boards have been installed at the secluded beach belt as per the resolution adopted by the villagers at a public meeting held after the gangrape. The incident has tarnished the image of Betalbatim and villagers are of the opinion that the panchayat should take necessary measures to ensure the safety and security of the visitors on the beach belt."
The sarpanch pointed out that installation of CCTV surveillance cameras and illumination of the beach belt will be taken up soon with the concerned authorities. "The GTDC had proposed installation of illumination masts at the Betalbatim beach belt," he said.
On police patrolling, the sarpanch said the panchayat is in close touch with the Colva police, which has jurisdiction over Betalbatim village, to intensify patrolling along the beach belt to keep anti-socials at bay and to instill confidence amongst the visitors and ensure their safety.
A week ago, a joint delegation comprising of Nuvem MLA Wilfred D'Sa, Betalbatim Sarpanch Constancio Miranda, ZP member Nelly Rodrigues had called on the district Collector with a plea to implement a host of measures at the Betalbatim beach belt, including illumination and safety measures including ban on colleges students in uniforms on beaches; ban on driving on beach belt; ban on open drinking; employment of locals for beach cleaning, maintenance and vigilance; interaction meetings with higher authorities and local panchayat bodies and a check on picnickers on the question of maintaining cleanliness and safety.
The villagers had also demanded that the Forest department intervene and get the thick vegetation cleared, besides trimming of tree branches, as part of safety measures.
Betalbatim's Sunset beach, considered a paradise for lovers and picnickers, hit the headlines around a fortnight ago when three accused persons from Indore, Madhya Pradesh gangraped a 20-year old girl when she along with her boyfriend had gone to the beach for a walk.
Related news