BBSM protest at edu dept, demand nod to Konkani, Marathi schools
Claim in past 4 years 21 Konkani-Marathi schools sanctioned out of 87 applications received
17th May 2018, 02:55 Hrs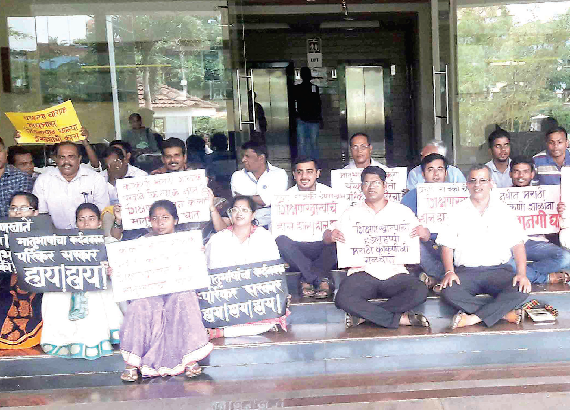 the goan I network
PORVORIM
Members of the Bharatiya Bhasha Suraksha Manch (BBSM) on Wednesday staged a sit-in agitation outside the Directorate of Education building at Porvorim, to demand approval to Konkani and Marathi medium schools in the State.
During the hour-long sit-in agitation at the entrance to the building, the protestors did not allow entry into the premises from the main door.
Later, a BBSM delegation comprising Subhash Velingkar, Arvind Bhatikar, Nagesh Karmali and others proceeded to the first floor to confront the Director of Education Gajanan Bhat.
But since Bhat was not in office, the delegation met the Deputy Directors Shailesh Zingde and Santosh Amonkar and submitted a memorandum protesting the step-motherly treatment to Konkani and Marathi medium schools and to demand approval to 38 new schools in Konkani and Marathi medium.
In the memorandum, the BBSM stated that Konkani and Marathi school are getting closed every year and as per indications by the Directorate of Education, more than 400 Konkani and Marathi medium schools are on the verge of closure during the next 3-4 years.
The BBSM stated that during the last four years from 2013-14 to 2016-17, the education department had granted permission to only 21 Konkani-Marathi schools of the 87 applications received.
Claiming that the department had rejected 26 applications (2017-18) and 38 applications (2018-19), the BBSM said this act on the part of education department was totally unfair and condemnable.
The memorandum further stated that since 2012, the education department had not implemented suggestions by Prof. Madhav Kamat committee to protect the interest of Konkani–Marathi medium schools, relax the condition of distance of 1 km for new schools and provide infrastructure to the new schools.
Related news