Vaddem lake to be one of most beautiful projects in Mormugao: Mauvin
17th May 2018, 02:51 Hrs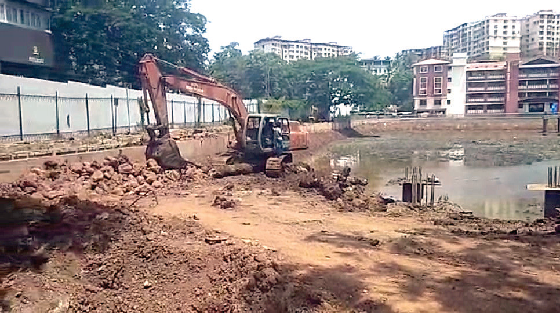 the goan I network
VASCO
Panchayats Minister Mauvin Godinho has said the beautified Vaddem Lake would be one of the most beautiful projects in Mormugao taluka.
Work of beautification of Vaddem lake is going on at full swing and the much-awaited entire project is expected to be completed soon.
The Vaddem lake, which has been taken up for beautification, will have pavers, walking tracks, benches and seating arrangements for senior citizens, besides lighting, amphitheatre, three floating fountains and permanent ramps for Ganesh idol visarjan ceremonies.
Speaking to reporters, Godinho said the beautified Vaddem Lake would set the benchmark as one of the most beautiful projects across the taluka.
Incidentally, some people in Vaddem had claimed that a lot of muck was found on roads while the dug mud was being transported out of Vaddem lake.
Some had even claimed that the wet mud on the road had caused accidents and had accused police and authorities of turning a blind eye to the safety of motorists.
When contacted, Godinho said a few people wanted to politicise petty issues and were against any good development.
"A few people just wanted to bring about a bad remark on a good project without having the ability to differentiate between good and bad projects."
"Vaddem lake will add so much beauty to the area and will be one of the most beautiful projects in the Taluka along the lines of Chicalim Jogger's Park."
"Naturally, the lake is being cleaned and mud will have to be removed. It will be wet and there may be some spillage and water may also fall on the road."
"We are taking utmost precautions and roads are being cleaned. We are getting fire brigades to wash roads, wherever required. Why is such a big issue being made? We have no deliberate intention to injure people," Godinho added.
Claiming that some people did not want to see good development, Godinho accused them of trying to do politics out of petty issues.
"They cannot differentiate between good and bad projects. They just want to oppose by screaming on small issues and bring a bad name to a good project," said Godinho.
Related news