An ode to mom's cooking
Mom's cooking, although usually the most delicious, is often taken for granted by the family. On Mother's Day, THE GOAN looks at a few people who decided to take their mother's talent for cooking to the next level by launching interesting food ventures
13th May 2018, 06:38 Hrs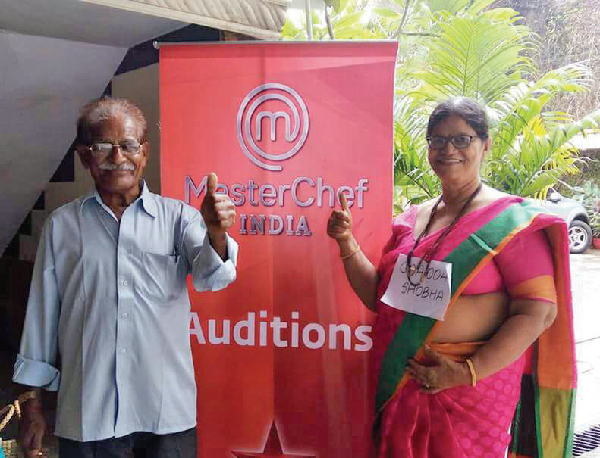 Pradnya Gaonkar Rane
Maie's Samaar
Enthralled by her mother's (Shalini Shinkre) tales of the bygone days, the traditions, the festivities etc, Smita Timble, a school teacher, decided to document these in the form of a book and released Yaadein Maie.
Another special thing about her mother was the delicious food she doled out. "People used to relish the dishes she made during festivals and family gathering and often called back to ask the ingredients," says Smita, who decided to do something about it and got her on daughter Prasanna onboard.
Two years ago, the duo went on to launch Maie's Samaar, which manufactures a masala which can be used for different purposes. The brand has steadily gained popularity in Goa and beyond. Smita's husband brings in the raw material required for preparation of the masala and Smita together with her mother are involved in the making and packaging of it.
Her daughter Prasanna handles the marketing part of it which includes the logo, the design, the packaging and the branding through various social media platforms. Since it's launch, the masala has found it's way on the people's plates in Mumbai, Mangalore, Karwar and even to America.
"One person ordered all the way from Karwar and my husband who was to attend a wedding there personally delivered the order," recounts Smita. Another lady who lives in Karnataka gets her daugher who studies in Goa, to collect the masala. "Through word of mouth and through social media, Maie's samaar masala has reached so many places,"says Smita.
Aaichi Ranchikud
Rani Kamat, along with her elder siblings Rahul Kamat and Radha Vinayak Bhandare always wanted people to know about their mother's talent for cooking. Rani thus decided to create a Facebook page - Aaichi Ranchikud where she began posting dishes cooked by her mother – Shoba Kamat.
For the first post of a pickle prepared at home, she received more than 1000 likes which boosted her confidence to bring her mother's cooking into the spotlight.
"We lived in a joint family and my mother used to cook some out of the box dishes that received praises. These comments remained only at the dining table. After the Facebook posts, the comments started pouring in from all over the world," says Rani. Buoyed by the feedback, Rani decided to start a new venture for my mother called Aaichi Ranchud Tiffin Service in 2017. The tiffin service has proved to be a blessing especially for office goers and senior citizens who don't have their dear ones staying with them. The service is at a discounted rate for senior citizens and students, And they have been getting a good response.
" More importantly, mother's authentic cooking style is loved by everyone and her pickles have reached places," says Rani. In fact, Rani also made sure that her mother participated in the Masterchef India contest organised by Rotary Club of Panaji. Shoba went on to win a prize for the same.
With all the recommendations and reviews coming in, Shobha is also planning on starting traditional cooking classes for the coming generations. The idea is still in the pipeline and will be announced soon.
Aunty Catarina
Milbon Fernandes knew that he wanted to launch his first venture in his mother's name because all he learnt about cooking was because of her.
"My mother has single-handedly brought up me and my sister after our dad passed away when we were little and cooking was always her passion. In fact I was inclined to do culinary studies because of her," he states. After completing his studies at IHM, Milbon went on to work at a hotel. "Although I tried Goan delicacies at various places, I didn't get the authentic feel of it. People make green chicken and serve as chicken cafreal," he says.
"Through Aunty Catarina (named after his mom) at St Inez ( started about six months ago), I want to bring out the actual taste of Goan delicacies to the people. I am happy that people are loving it," says Milbon Fernandes, proprietor of Aunty Catarina Shakes '&' Takes who has included the Goan chicken cafreal along with the grilled poie for the extra crunch.
From his side, Milbon has brought in the western flavours like grilled sandwiches, ice creams shakes and not to miss the detox drinks for the liquid dieters. Milbon has kept original flavours, that he learned from his mom, intact like that of ross omlette, choris pao and beef roast poie.
Related news