All you need is buttons and bands!
28th April 2018, 06:13 Hrs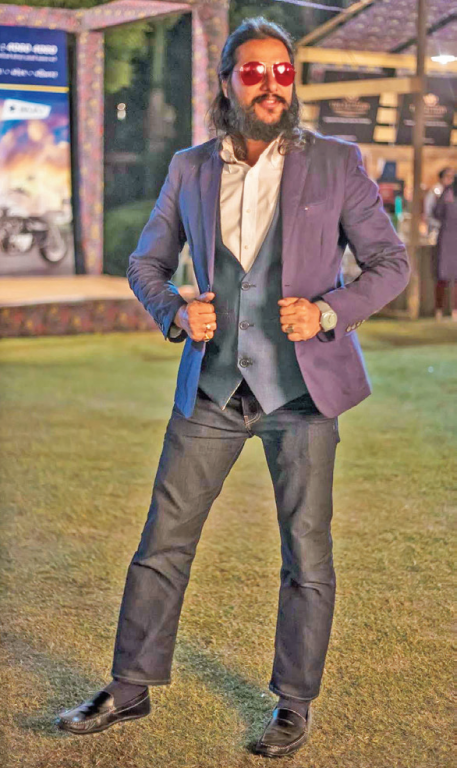 BHARATI PAWASKAR
It seems almost like magic or some kind of illusion, as he turns a simple piece of cloth into multiple utility items – a top, a gown, a shirt, a handbag or a cushion cover, within the fraction of a second. But rather than using a magic wand, designer Anuj Sharma uses only buttons and some rubber bands to create magic out of fabric. And indeed, his novel method of making garments without any machine, tools or stitching technique which is called Button Masala has gained popularity not only in India but has been shown internationally.
"The idea of Button Masala first hit me when I saw a man wearing an unbuttoned shirt. Sometimes mistakes turn into a pattern. I began visualising multiple patterns of buttons wrapped with fabric at every intersecting point and how it would appeal to the eyes of the viewers. I created a collection using buttons and the show was hit," says Anuj. However, people are slow in welcoming change, he laments. Even so, he hopes that people will gradually be more open to accepting new concepts and making something of their own states Anuj, whose second idea involves using rubber bands with buttons inside.
He started with his debut collection Sunday Market which showed up in Lakme Fashion Week in Mumbai in 2007. He came up with many collections and gradually got into innovation in the field of design. A part of the travelling exhibition Connecting Concepts by Dutch design DFA to Netherlands, Anuj also participated in the exhibition Bliss at the Taiwan Design Expo in 2011. In 2015, he was invited to be a part of Laspis Studio Grant Residency Programme in Stockholm, Sweden. "This journey has been quite satisfying," he quips.
Infact, Anuj, was also the first designer to be invited to give a TED talk on the method of his Button Masala collection in TED x Delhi and was awarded the Most Innovative Collection of the Year Award 2009 for his collection Button Masala at Marie Claire Made in India Fashion Awards. Following the fantastic feedback, Anuj decided to travel and teach others about these novel concepts and since 2010 he has been conducting workshops in India and abroad to talk about his innovative design and method development. This new role takes him to places – in South Africa he was invited as a part of India Africa programme. He participated in the India Design Forum in Mumbai. He was also invited by HCL to give a talk on unconventional management during World Economic Forum at Davos in Switzerland. Anuj who has attended Fashion Coterie in New York, participated with a show at Alchemy festival in London and was one of the four finalists selected for International Young Fashion Entrepreneur of the Year award (IFFEY) by British Council, India.
"People still know me as a designer and I do have a setup in Ahmedabad but I now focus more on teaching. People are familiar with the most used techniques when it comes to stitching garments. I want to break this pattern. But in India, I have experienced that people are not supportive. They are stuck in a typical mind set and they don't want to come out of it, to experiment and experience something 'out-of-the-box' or to embrace some novel idea. Luckily, the feedback from other countries has been encouraging," says Anuj.
Button Masala has created an atmosphere and Anuj wants this simple idea to get across the minds of people who can add their own ideas to it and create their own garments. "Once this piece is in your hand, you can make anything out of it. You don't need much - just put one or two buttons, stitch by hand, attach a rubber band. It's so humble, so cheap. No machine is required. For variation you can use paper, stone, button, coins or bottle caps - just anything that can bear the fabric. It should not tear the fabric, too. That's the basic idea. Button Masala gives you the freedom to be and to make what you want," he smiles.
"I want my students to take my concept of Button Masala forward by innovating new ways of applying this simple technique to make a garment out of a cloth, using minimum accessories like buttons and band and sometimes, without a single stitch," says Anuj who has visited Goa many times to give hands on training to college students. This is the first time he is conducting the workshop for public.
Related news