Tembi on Raia-Borim highway stretch continues to be jinxed
Story: the |

goan

|
17th April 2018, 01:30 Hrs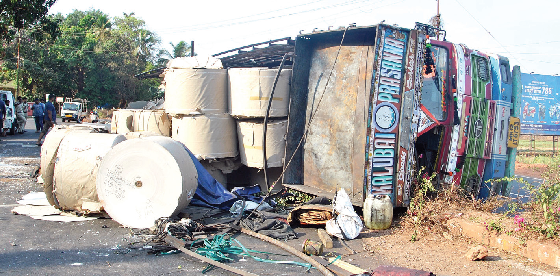 MARGAO
Yet another road accident was witnessed on the Raia-Borim state highway at Tembi on Monday noon after a truck carrying newsprint rolls turned turtle, leaving three persons injured, including the driver of a bus which was following the ill-fated truck.
The incident once again raised questions on the safety of the Tembi-Raia road which had in the past witnessed several fatal accidents. Curtorim MLA Reginaldo Lourenco, who rushed to the spot after he was informed of the accident, has demanded that the PWD Chief Engineer come out with the reason behind the latest accident.
While the bus driver Hari Singh is convalescing at the hospital, the truck driver Abima Murari and cleaner Balaji Murari were discharged after first aid.
Maina-Curtorim police informed that the truck driver lost balance and hit the divider and the electric poles located in between it. One of the newsprint rolls hit the bus, which was following the truck, damaging the wind screen and injuring the driver.
MLA Reginaldo said that the PWD need to carry out a thorough study of the road engineering on the Arlem-Tembi-Borim road given that the accidents have not stopped even after widening. "Whenever an accident is reported, I make it a point to visit the spot and ask the PWD to carry out a study in order to take corrective measures."
Related news