Milagres feast: Propagating religious harmony
17th April 2018, 04:44 Hrs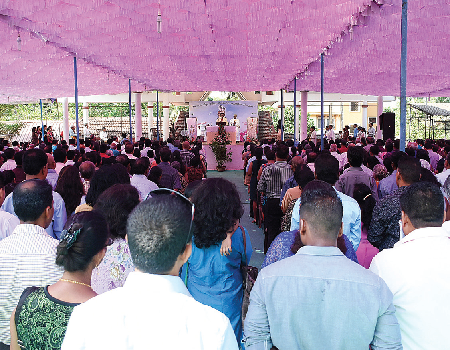 the goan I network
MAPUSA
Milagres Feast also know as the feast of Our Lady Of Miracles was celebrated with much pomp and fervour at Mapusa on Monday.
Goans along with people from other states thronged to Mapusa to celebrate the Milagres Feast on the third Monday of Easter.
On the occasion of the feast, Catholic and Hindu devotees poured oil on the idol of Our Lady of Miracles and also offered flowers and candles.
The prayers started at 5 am in St. Jerome Church with masses held in Konkani and English.
The high mass of the feast started at 10 am and was celebrated by Parish Priest Fr. Hangry Falcao.
Various programmes will be held over the next five days. Various stalls selling clothes, toys, sweets, household items, etc lined both sides of the road in the vicinity of the church.
For years, the Milagres feast is known as an occasion for propagating religious harmony among Goans. Oil is sent to Our Lady of Miracles from the temple of Godeess Lairaee Devi at Shirgao and during the Lairaee Jatra, flowers are sent from Milagres church.
This tradition has been going on for several decades.
As is the tradition devotees beg with a coconut shell and vow to give this offering for fulfilling their prayers.

Related news