Shraddha Bidarahalli: Jewel in handcrafted jewellery
This daughter of Goa, has proved the artist in herself, as for her, art is an expression, something which pleases and satisfies her soul. Whether it's something created for herself or to gift it to someone on festive occasions or birthdays, she prefers handmade to ready-made
Story: BHARATI |

PAWASKAR

|
15th April 2018, 06:51 Hrs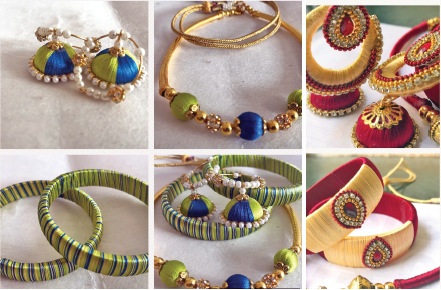 It's Veena's Mehendi ceremony and she needs to wear a bright pink silk lehega but doesn't have matching jewellery to go with it. As she wanted something light in weight, and yet very attractive, and also matching, she remembered visiting Behance – a network of sites and services specialising in self-promotion, including consulting and online portfolio sites. It is owned by Adobe. Here, Veena had come across handcrafted beautiful jewellery displayed in in multiple patterns and colours. It was meticulously handcrafted weaving silk thread onto bangles, earrings, necklaces, bracelets and hair accessories like hair clips, hair bands etc. Having found her solution, Veena quickly booked her online order providing details – of the colours and design to match with her lehenga. Within a week, her package arrived and Veena was thrilled to see that the jewellery was exactly the way she wanted it to be.
It's Shraddha Bidarahalli, the brain behind this creative, artistic and affordable solution – to gold jewellery – who handcrafted the jewellery for Veena, who's just one of her numerous satisfied clients. "All you need is some silk thread and the bases on which to weave it - bangles of the size that fits the person's hands and wooden or plastic beads of various shapes and sizes. Once the design and pattern is finalised in the head, I began working on it. If I work continuously, I can complete one assignment in eight to ten hours. Otherwise, it take me a week to finish one set of jewellery," explains Shraddha who quotes her price depending upon how intricate the design is and how long it takes her to complete it - which can be Rs 800-1500 or even more.
This type of jewellery is very popular in youngsters, who prefer to wear something trendy, light and cheap, yet looking elegant. "As the silk thread matches with the silk attires, this type of artificial jewellery is the 'in thing' in today's times, claims Shraddha, a graduate in fine art and a post-graduate in advertising and graphic design. As far as handcrafted jewellery is considered, she is self-taught and self-trained artist who did not have any prior training or experience in this particular field. But art came easy to this daughter of Goa, who was introduced to it in her formative years.
She recalls, how her family always stressed on making something by hand for festival decorations or to give away as return gifts during Makar Sankranti, birthday parties or Diwali. "My father, Dr Subhash Shikerkar always encouraged the three of us, my sister, myself and our mother, to create something with hand, at home, for special occasions. With our creative imagination flying high, we were habitual of crafting by hand, beautiful products. We still prefer to do that. Sometimes we make things out of waste products, instead of throwing them away," recalls Shraddha.
Always into painting, colouring or making something by hand, Shraddha has turned her instinctive creative skills to add up to her acquired technical knowledge of Visual Communication, Creative Thinking, Technology, Design, Typography and Time Management that she boasts of having command on.
After joining Goa College of Art, her love for art and design, grew all the more. She now got training in how to apply her ideas to create something innovative and useful. "It was a joy to understand that I can communicate through design," she quips. A bachelor of Fine Arts from the 2003-07 batch of Goa College of Art, Shraddha did her post-graduate diploma in advertising and graphic design from Wigan & Leigh from 2007-10 in Bangalore. She worked as a graphic designer and visualizer in White Canvas Pvt Ltd for two years, until 2012, when she decided to call it a day.
"I decided to do my career into this, and worked in an ad agency in Bangalore for two years. But after working very hard, I realised that this is not where I belong. I need to be my own boss to explore things the way I wanted to. So I quit," recalls Shraddha who began freelancing in the same field and to her amazement, she got better opportunities to put to practice what she believed and to prove her worth. She undertakes projects - does graphic designing for national and international brands and in her past-time, paints even shoes to gift to her friends and relatives. Buying good quality, branded shoes in light colours, Shraddha fabric paints them in attractive colours and patterns. Good at embroidery, she also hand paints key chains, wall hangings and showpieces. Apart from having international clients to offer her graphic designing service, she also caters to orders for hand painted and hand crafted products from other countries.
"Due to Instagram, Facebook and WhatsApp, people from all over the world know what you do and what you are good at. Though I quit my full-time job as a graphic designer, I get so much work which I do from home. And I can pursue my hobby too, in art. There is no looking back now, as she continues working as a freelancer in advertising and graphic design as well as tries her hands on art and craft too. "It offers me space to try both – implement my academic knowledge and utilise my instinctive impulses, as well."
Turning her hobby into her career, Shraddha is now her own boss - a freelancer. Offering her varied skills she now offers services to her global clients sitting in either Goa or in Bangalore. Sharing her secret of success and her mantra to be a clever professional, Shraddha says, "One has to experiment first, on self and once you gain confidence, try out your ideas on others. When it comes to handcrafted jewellery, shoe painting, designing home décor products etc, Shraddha has few competitors – in Goa or in Bangalore, as whatever piece she crafts, very few can master that art. Shraddha hopes to venture deeper into art and craft. It offers her time and space, where she can work from her comfort zone at home and yet, working on the toughest assignments from her worldwide clients – be it a to-be-bride of to-be-launched company that wants something 'out-of-the-box.'
SHE'S HER OWN BOSS
Turning her hobby into her career, Shraddha is now her own boss - a freelancer
She now offers services to her global clients sitting in either Goa or in Bangalore
When it comes to handcrafted jewellery, shoe painting, etc, she has few competitors
Shraddha hopes to continue doing the same and venture deeper into art and craft
Related news