Repeated targeting of women, children crime against humanity: Church leaders
16th April 2018, 03:05 Hrs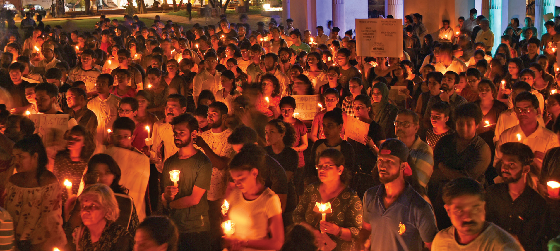 the goan I network
PANAJI
Expressing deep pain and anguish at the incidents against women in Kathua, Unnao and other places in the country, the Catholic Bishops' Conference of India (CBCI) has strongly condemned these dastardly incidents or elements that have committed or supported such acts which have brought great shame to the country.
"In a way, humanity was thrown out of the window and replaced by the darkest side of human behaviour,' stated CBCI Secretary General Bishop Theodore Mascarenhas in a strongly-worded press release.
Stating that CBCI stands firmly with the victims of these and every horrific crime committed in the nation, Bishop Mascarenhas added: "We condemn these incidents or elements that have committed or supported such acts."
"Ours is a nation that has produced great women leaders, social reformers, politicians and yet, our women are subjected daily to the most unspeakable crimes."
"This must stop now and the Catholic Church in India wishes to lend its voice and resolve in speaking up against such barbaric acts."
Bishop Mascarenhas stated that "the repeated targeting of women and children as a tool or agenda for personal, religious or political gain is nothing less than a crime against humanity."
"What has made the incidents even more deplorable is the justification by certain sections of society; the very people who should uphold the law have either become perpetrators or defenders of the indefensible. There is no justification for rape and every voice must speak out," he said.
"It is here that we look for voices of sanity, in the pillars of democracy to speak out boldly and immediately; for when this is not done it gives a boost to the perpetrators."
Bishop Mascarenhas said it has been hard to be unmoved by what has happened in Kathua...or in Unnao, or in any part of the nation, where women are raped and murdered. "We are not a soulless nation. If we were, then the outpouring of anger we have seen +would not have been manifest. Our nation has a soul, a heart and a mind. A soul to respond to these unspeakable crimes committed against women, a heart that reaches out in empathy and solidarity and a mind that does not fall for hate games played by those who wish to pollute the sacred secular fibre of the nation," stated Bishop Mascarenhas.
He pointed out that the eight year girl in Kathua and the twenty year old maiden from Unnao and every woman "is our daughter, our sister, our mother."
"Their religion or caste does not in any way make them belong less to us," said Bishop Mascarenhas.

Related news