Hill Top: The BIG party destination in Small Vagator
The music never stops at Hill Top in Small Vagator. Music has been the soul of this destination, says Starling D'Souza, who is happy to be on top even after 35 years, but adds that if night life has to survive and thrive in sunny Goa, then the government will have to relax the not-beyond-10 pm rule
09th April 2018, 07:20 Hrs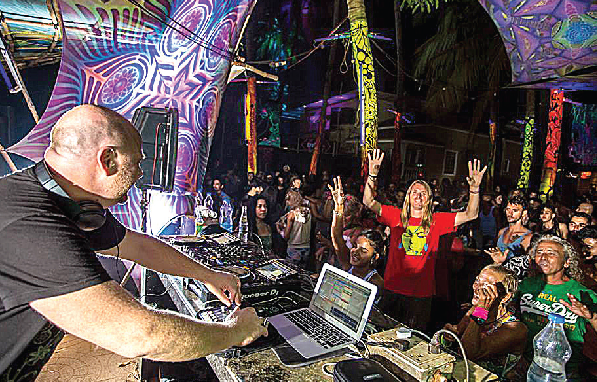 Karan Sehgal
In a tourism destination like Goa, where tourists come in from all over the World, Hill Top at Small Vagator has carved a niche for itself by offering a place for parties and music for more than 35 years. It was John Stephen D'Souza, who started Hill Top and gradually his son, Starling D'Souza, has taken over the reins of the business.
Every year during the tourism season, between November and March, Hill Top hosts parties, wherein international DJs play the best of psy-trance music and attract all kinds of tourists from young backpackers to old school hippies. Starling is an artist and DJ himself, who gets musicians from all over the world for parties at Hill Top. The Goan Everyday went to meet and interview Starling at the breezy Hill Top at Small Vagator.
Starling said, "No other business is exclusively doing parties like we do. Most people are not so involved in night life scene like we are. I am totally involved in night life. I do parties not only in Goa but across India. I have an agency and I fly in artists and we do India tours. We do parties in Goa, Bangalore, Mumbai and several other places."
Starling's job requires him at times to be a performer and at times to be a manager and he is comfortable switching roles. He said, "I am a musician myself. I produce a lot of electronic music. I write songs as well. For shows and parties, I sometimes act as a performer and sometimes as a manager."
Even as Goa is one of the few tourism destinations in India, which attracts people for music and parties, the state government doesn't allow music in open spaces after 10 pm. At Hill Top as well, parties happen from 5 pm to 10 pm.
Starling said, "We have a different kind of crowd, who come to Goa. We not only get tourists who want to go to the beach, but we also have tourists coming in for music as well. These are people who want to have fun in a good way. I think we get majority of that crowd in Goa. The state government should be more open to allow parties beyond 10 pm to make partying more alive."
Over the last decade, Goa has become a huge party destination with even electronic dance music (EDM) festivals like Sunburn, Supersonic and Timeout-72 Hours happening in the state. Several tourism stakeholders have expressed the demand that music in open spaces should be allowed after 10 pm, but so far the government has not given permission.
Until that happens, a business like Hill Top will have to remain contend with hosting parties and playing music till 10 pm. Apart from hosting parties, Starling's family owned business also has a lodge and two restaurants – The Mango Tree and The Goan Hub, which have become extremely popular.
The lodge is next to the place at Small Vagator where they host parties. When asked if he has any plans of converting the lodge into a hotel, Starling said, "The lodge we have is more like a guest house, wherein we have nine rooms. No, we are not really keen on making it a hotel."
The two restaurants – The Mango Tree at Big Vagator and The Goan Hub at Anjuna – have already made a mark for themselves and are a huge hit among both, tourists and locals.
Starling said, "At The Goan Hub, we offer mixed cuisine, but focus is more on Goan food. At The Mango tree, the focus is more on Indian food. Besides, we also have a nice coffee bar at The Mango Tree, where we serve different kinds of coffees."
Over the last four decades, Anjuna and Vagator have become party destinations in Goa and Hill Top has played a significant part by hosting parties with some acclaimed musicians performing in them. Starling thinks that Anjuna and Vagator should be marketed as party destinations because a number of tourists come here for the nightlife.
So, what is ahead for Starling and Hill Top? Starling said, "We just had celebrated the 35th year of Hill Top. We have come a long way doing parties. And, we are going to continue
doing this."
Related news