FC Goa set sights on Super Cup
Coach Derrick Pereira says team confident of success in first edition of the tournament
30th March 2018, 07:09 Hrs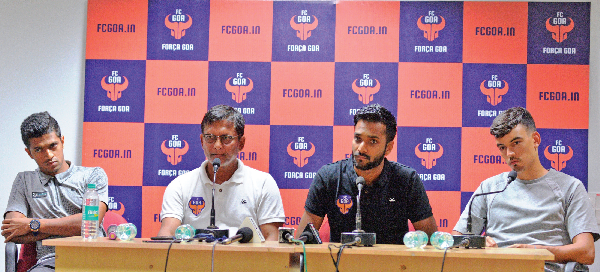 BASIL SYLVESTER PINTO
MARGAO
It seems only like yesterday, a plentitude of passionate FC Goa fans were disillusioned that their side came a cropper at the second last hurdle in Chennai. But in reality, it was less than three weeks ago that FC Goa by a fair distance emerged second best in the 180-minute home-and-away double semi-final leg duel against their familiar foes and eventual title winners, Chennaiyin FC, losing on a 1-4 aggregate.
Cut to the present. The Gaurs have a fair opportunity to regain sheen and acclaim in a renewed enthusiasm and objective to lay claim to the first ever Super Cup pitting the best of the ISL and I-League sides in a unified tournament to commence early April in Bhubaneshwar, Odisha.
In the absence of Spanish head coach Sergio Lobera, his second-in-command, Derrick Pereira has been handed charge of the Gaurs as the franchise looks to better on their ISL let-down
in performance.
Speaking to the media at a press briefing at Bambolim on Thursday, Pereira maintained that his charges are motivated to go the distance this time notwithstanding what happened a few weeks ago.
While refuting to single out a Coro or Lanza as a lynchpin to mount a formidable challenge in the Super Cup, Pereira stressed on the collective.
"We believe in a team game. We will follow the same style and formation that we started with at the beginning of the season. Our approach will be the same. We play to entertain the crowd in India. I am sure the players will put in their efforts to do well and win this Cup," the FC Goa gaffer affirmed.
Against the ISL rule that permitted as many as eight foreign players in the squad for the season 2017-18, Super Cup allows only six. Back home are young Dutch forward Mark Sifneos and central defensive midfield Moroccan bulwark Ahmed Jahouh. While Sifneos, a late entrant into the squad was sporadically serviced into action, Jahouh was an integral part of the team's plans.
Reasoning out the absence of key foreign midfielder Jahouh from their set-up, coach Pereira had this to say. "Jahouh was part of the plan with other players but he had personal issues to take care of and as such he is not here. But we have other players who can fill up his position and do well. Jahouh was to play in the midfield along with Edu Bedia and Pronay Halder. If Jahouh was here, it would have been a good option for me to rotate players and get players off the bench to make an impact. That option would be missing."
Edu Bedia meanwhile was not troubled who he would partner in central midfield for the forthcoming tournament in Jahouh's absence. "I have played a lot of the season alongside Jahouh. But Jahouh has sometimes combined with Pronay Halder as well. It does not matter with whom I combine with so long as I do well for the team. We strive to go on field and perform as best as we can," the fluid-passing Spanish central midfielder asserted.
When reminded that he did not feature in their last all-important FC Goa match in Chennai, from once being a certain starter, Bedia did not seem to be unduly worried. "I think I have played a majority of the matches in the season. Everyone in the dressing room right now is keen to get the Super Cup started. That is where the focus is, to try and win the Super Cup," the
team-player stated.
Local poster boy Mandar Rao Desai on his part is willing to do what it takes to put his best foot forward on the pitch to deliver desired results. Having played throughout his career as a left winger, the course of ISL 4 saw him alternate between flanks and sometimes play as the right wide man. Not one to deter from a challenge presented by Lobera, the fleet-footed Goan winger stated that he feels that playing on the right wing is good for him as he is adept at taking shots on target from that side of the pitch
as well.
FC Goa has their last training at home scheduled on April 1 before they fly to Bhubaneshwar for the tournament. The Gaurs play two-time ISL champions ATK, who had a difficult season finishing second from the bottom, in their first match on April 3 in the knock-out tournament.
Related news