April set to take the fizz out of tourism season
Though the domestic tourists will continue to arrive off-season, their stay in Goa will really be short, something like 2-3 days. The bigger question is whether Goa should contend itself with just a five-month season
26th March 2018, 05:43 Hrs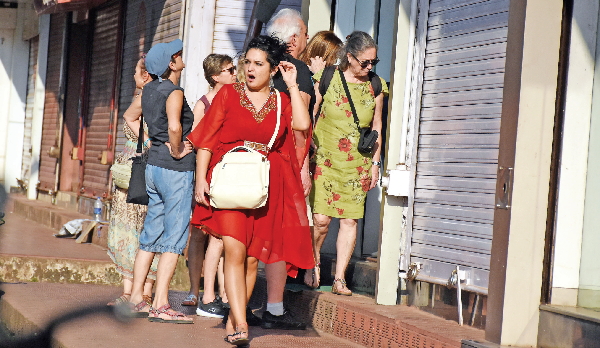 KARAN SEHGAL
In the last four-five years, Goa has faced a peculiar problem, as the tourism season is curtailed to just five months, starting from November and ending in March. This year again the stakeholders are saying that in April itself the number of foreign tourist arrivals will come down drastically. Ernest Dias, chief operating officer, Sita Travels and TCI said, "There will be a drop in the number of foreign tourists arriving in Goa from April. This is because charter flights start withdrawing
from Goa in April. The Finnish flight
has already made its last departure from the state. Summer destinations like Spain, Turkey, Tunisia and Portugal open up in April and tourists prefer going there."
The charter flights bring tourists predominantly from UK and Russia. The tourists from these countries prefer coming to Goa, as it allows them to escape from harsh winter in their countries between November and March. Beginning April, these flights start withdrawing from Goa resulting in drop in foreign tourist arrivals.
Sheikh Ismail, general manager, Concord Travels & Tours, said, "We have charter flights coming from Russia to Goa till May 12. However, the frequency of these flights comes down starting April. Till April 20, we will have 4 flights per week coming from Russia to Goa. And, from April 20 till May 12, we will have 2 flights per week from Russia. A lot of Russian tourists head to Turkey, Egypt and Cyprus in summer."
On similar lines, Thomas Cook flight, which brings tourists from UK to Goa, will continue till May 1, but its frequency will reduce from April.
As fewer charter flights are expected in Goa in April, the number of tourists falls down making it difficult for hotels to fill their rooms. Charter operators expect hoteliers to give discount on tariff to attract foreign tourists, but at times, hoteliers refuse to do so.
Polly D' Cruz, general manager, The Golden Crown Hotel & Spa in Colva, said, "The issue in Goa is that the Russians make up for a large percentage of overall foreign tourists arriving in the state. Now that the winter is getting over in Russia, Russians wouldn't want to come down to Goa. The charter companies start asking hoteliers to give discount in room-tariff to attract foreign tourists in March and April. I have not given any discount this time. At discounted rates, tourists are not of good quality."
D'Cruz said, "The tourist season is almost coming to an end. Now, our focus will be more on Indian tourists and corporate clientele. The occupancy rate in reputed hotels comes down to 50% in April from 80-90% in previous months."
Tour operators lament that unlike other countries the state government doesn't provide any incentive to them to bring foreign tourists. They said that it would have been a lot easier to attract Russian and British tourists in April, May and even in monsoon had the government given some incentives to them to do so.
Dias said, "Egypt and Turkey are giving $30-40 per foreign tourist to tour operators to incentivise them. We also think that parking fees for charter flights at Dabolim Airport should be slashed, which is within the purview of the Airport Authority of India (AAI)."
Savio Messias, president, Travel and Tourism Association of Goa (TTAG), said, "If the government wants to encourage charter flights to bring tourists to Goa for a longer duration, then it needs to support tour operators. Other countries are offering operators benefits, which Goa is not doing. The government has to work together with charter operators to bring foreign tourists for longer duration."
The fact of the matter is countries like Vietnam, Cambodia and Thailand have become 12 month destinations while Goa is still a 5 month destination. Even though the tourism department has made efforts to bring more foreign tourists in off-season, but those efforts haven't really yielded fruit.
D' Cruz said, "The state government has been trying to get tourists in monsoons from Middle-East, but, so far, not many tourists from those countries have visited Goa. The government should think as to which countries can be targeted to get foreign tourists to Goa in the off-season."
Recently, Israeli government gave a one-time grant of 750,000 euros to
Air India so that the carrier could
bring tourists from India to Israel.
Given this, there is some merit in state government providing some sort of incentives to either airlines or to tour operators to grow the number of foreign tourists.
Ismail said, "In order to bring more foreign tourists, the state government can consider giving some incentives to tour operators."
Going forward, the state government will have to work aggressively to make Goa a genuine 12 month destination. Otherwise, like this year, the hoteliers, the tour operators and almost everyone in tourism trade will complain of low business from April itself.
Related news