Police acquire four laser speed radar guns, 100 alcometers
Story: the |

goan

|
14th March 2018, 02:15 Hrs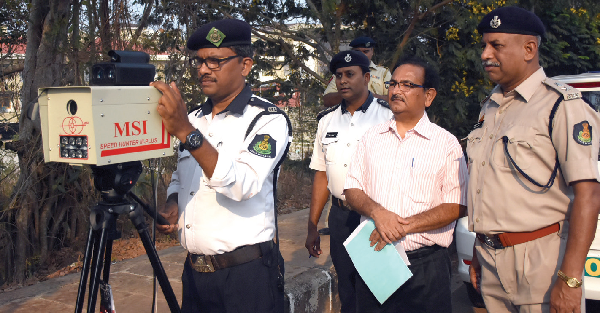 PANAJI
Goa Traffic Police has acquired four new laser speed radar guns and 100 new alcometers at a total cost of Rs 60 lakhs.
Speaking at Police Headquarters, Director General of Goa Police Dr Muktesh Chander informed that the traffic police have begun maintaining strict check on over-speeding vehicles and drunken drivers with the help of the new equipment from Tuesday.
Acquired at a cost of Rs 30 lakh, the four new tripod-mounted and portable laser speed radar guns are capable of high accuracy and are equipped with photographic and videographic elements with a range of up to 300 mts. The visual records would then be used as evidence against the offenders.
On the other hand, the alcometers were acquired at a cost of Rs 29.7 lakh. "The tendency of overspeeding in violation of the prescribed speed limit is a very serious cause of accidents. As the plan to procure interceptor vehicles could not materialize, we have acquired the speed guns," DGP Chander said.
He added that the offence of overspeeding would attract a fine of Rs 400 and impounding of license, which would then be forwarded to the Road Transport Authority for suspension of a minimum of three months.
Goa Police has announced that adequate signages bearing the prescribed speed limit will be ensured at the spots of checking and that traffic police staff has been trained to handle the new equipment.
On Tuesday evening, the DGP remained present at the first round of checking conducted at Bambolim-Dona Paula road, where the new equipment was utilized.
Related news