Haven't done anything wrong at Betalbatim, says Mickky
Claims his privacy was invaded in another incident at Utorda
Story: the |

goan

|
14th March 2018, 01:13 Hrs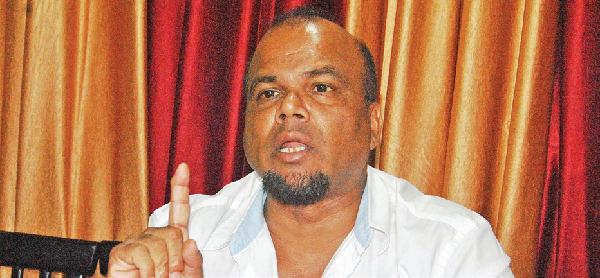 MARGAO
A day after a video went rival allegedly showing Mickky Pacheco driving his vehicle on the Gonsua-Betalbatim beach and allegedly damaging a parachute, the former Minister on Tuesday has claimed that he had driven his vehicle to
Utorda after receiving a call that a foreigner had fallen sick at a shack.
He also said that one Milroy D'Silva had invaded his privacy when he was having food at a restaurant at a shack in Utorda with some friends.
Addressing the media on Tuesday after the Colva police registered a non-cognizable case against him for allegedly damaging a parachute belonging to Fanny Da Silva at the Gonsua-Betalbatim beach, the former minister said the video that had gone viral shows nothing of the damage caused to the parachute by his vehicle,
while terming the complaint as false. "I drove my vehicle to the Utorda beach after receiving a call that a foreigner had fallen sick at a shack. Even if had committed an offense by driving the vehicle on the beach, a complaint could have been made to the authorities. Milroy had no right to come and film my presence at the shack when I was having food. He had invaded my privacy and provoked me and my friends," he said.
Interestingly, when the media questioned him that the video does not show him assisting any sick foreigner at the shack, Mickky replied back saying the foreigner by then had already left the beach to see a doctor.
He said the Colva police have registered a non-cognizable case against him for damaging the parachute at Gonsua, adding "show me the video when and where the parachute was damaged by me".
In the meantime, even as the Verna police have started investigations into the complaint against Mickky for the Utorda beach incident, the former Nuvem MLA has lodged a complaint against Milroy for allegedly insulting him invading his privacy.
Verna police too book Mickky
VASCO: Verna police registered an offence against former minister Mickky Pacheco on charges of threatening a water sports operator.
Verna police registered the offence against Pacheco after a video clip showing the former minister driving an SUV on a beach and later threatening a water sports operator went viral on social media.
Earlier, the Colva police had registered a non-congnizable case against Pacheco under Sections 427 and 504 of the IPC, following a complaint lodged by one Fanny Da Silva, a resident of Nagvaddo-Betalbatim.
Colva police had registered the non-cognizable case against Pacheco on Sunday after the complainant had alleged that the former minister had damaged the parachute with his vehicle causing loss of Rs 2 lakh.
Related news