Salgaocar FC's community programme concludes
13th March 2018, 07:32 Hrs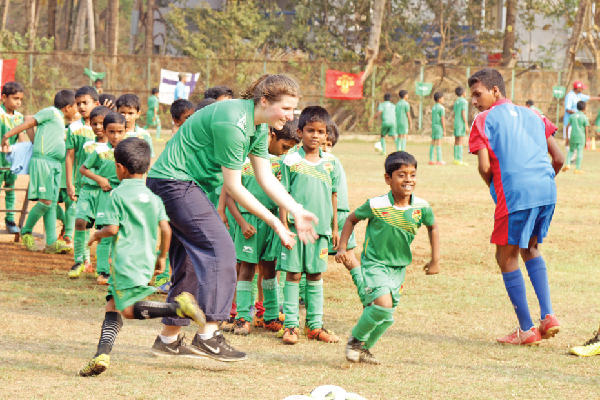 the goan I network
PANAJI
Salgaocar FC brought the 5th edition of its Community Outreach Programme to a close on Sunday amongst great fanfare that involved the participation of all the young members of the club, their parents and club officials.
Thanking all those who have supported Salgaocar FC in their unique endeavour, Swati Salgaocar said, "We could not have made this programme a success year-on-year without the active involvement of the children, their parents and the hard work put in by our coaches and volunteers."
Unlike the regular sessions where only children between the ages of 6 and 12 participate, the closing event saw parents turn out in large numbers to take part in football-related activities, specially planned for them including small-sided games, tie-breaker contest, heading the ball in the bucket, rolling the ball through hurdles and kicking the target.
Salgaocar FC also celebrated AFC Women's Day on the occasion with a large number of young female footballers, mothers and women coaches present. At the start of the programme, Dr Peter Fishman and his team of osteopaths from Australia led the young athletes and their parents through several dynamic warm-up exercises to reduce the risk of injuries during play.
This year, the programme has concentrated on the overall health of the participants and their parents with regular sessions addressing various areas of interest including nutrition, osteopathy and physiotherapy conducted by experts from VM Salgaocar Hospital, Chicalim and SALT Health Solutions, Australia.
Salgaocar FC general secretary Adlear D'Cruz said, "At SFC we have always focussed on the overall development of a player and hence we thought it was important to expose parents and children to new concepts in various medical fields apart from training them in football skills."
Related news