A day later, Ajgaonkar allows work to resume at Mopa site
13th March 2018, 03:16 Hrs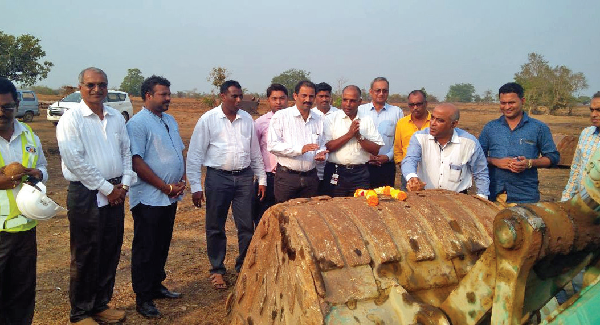 the goan I network
PERNEM
After stopping the first phase of construction at the Mopa airport on Saturday, Tourism Minister Manohar (Babu) Azgaonkar on Monday symbolically launched the construction work after GMR officials assured to provide employment to local youth during the construction.
Ajgaonkar had halted the ongoing construction work after complaining that local youth had been deprived of jobs at the site.
Speaking in the presence of supporters at the site on Saturday, Ajgaonkar had said: "The people of Pernem taluka have made a great sacrifice by giving nearly 2 crore sq mts of land for the airport project."
"Hence, it is their right to be given priority in all kinds of jobs, but the company has been appointing people from outside Pernem," Ajgaonkar told the local media.
"It was decided at a meeting with one of the company directors to give priority to youth from Pernem in matters pertaining to employment. The initial work at Mopa airport was started a week ago and when we took stock of the work, we found that outsiders were given jobs and this is unacceptable. We will stop work if injustice is done to our youth," warned Ajgaonkar.
Speaking to reporters on Monday, Ajgaonkar said he had convened an important meeting with GMR officials.
"A director assured to give job preference to those families who had lost their land due to the airport and resolve the problem of affected land owners on priority," he added.
"Trusting the words of the company's official, the work has been resumed. If the company breaches our trust again, I will revolt once again," threatened Azgaonkar.
Varkhand Sarpanch Mandar Parab, panch Pradeep Kambli, Korgao panch Ranganath Kalhaokar, Korgao panch Custan Coelho, former PMC chairperson Vasudev Deshprabhu, former ZP member Pandurang Parab and others were present during the occasion.

Related news