Meet Goa's first women fusion band
'Swar Raagini' gave their first performance recently as part of the International Women's Day celebrations at Ravindra Bhavan, Margao
13th March 2018, 06:19 Hrs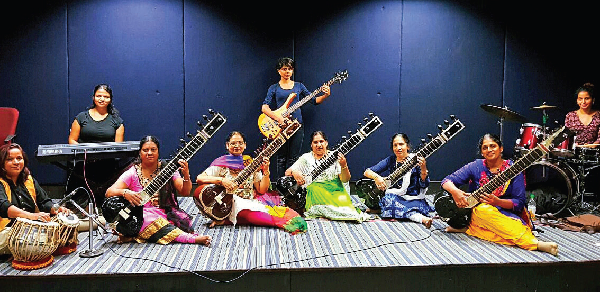 CHRISTINE MACHADO
In a splendid display of talent, nine women from different musical backgrounds came together to deliver Goa's first all women fusion band performance. The one of it's kind show was staged as part of Ravindra Bhavan's international women's day celebrations – Savitri Fullam– which was held recently over three days.
And the band was put together by noted sitar player Yograj Naik. Interestingly however, forming a fusion band was not the initial plan, admits Yograj. "After I got a call from Ravindra Bhavan about their women's day celebrations, I had an idea about just getting all women musicians together," he says. Naik then set about getting in touch with different musicians, some of whom were his students. Nine musicians were finalised upon –Punam Budalkar, Archana Naik, Trupti Shetye, Vandana Sawant and Sushma Velingkar on the sitars, Reshma Gawas on the tabla, Anastazia D'Mello on the drums, Velma Fernandes on the keyboard and Felicia D'Souza on bass guitar. And the fusion band Swar Raagini was thus formed.
"Four tunes, all my original compositions were chosen to be performed," states Yograj. These tunes are named after the Indian ragaas like Charukeshi and Kirwani and contain element of Western music in them. "We had about seven practices in Margao and Panaji over two months. As all of them were good musicians, they could cope up well. However not all of them are professional musicians. Infact some of them were performing as a band for the first time," says Yograj.
Indeed, for Velma Fernandes, the shift in music was quite a challenge." I have always been into Western classsical music. My first love however is gospel music," she says. Velma is also a music teacher in a school where she teaches little children. " So to move from gospel music and baby music to fusion music was quite a jump for me," she says. Even so, she was all up for the challenge, although she confesses that she didn't really know what she was getting into, she just wanted to have fun with it. And she has no regrets to jumping in. "It was a great experience to interact and work with people from different music backgrounds. All the women have their own jobs, some of them are mothers. In fact one musician's child is studying in standard X. Despite all their other responsibilities, everyone enthusiastically came together for this show and Yograj must be applauded for his idea," says Velma.
For Anastazia too it was her first time doing fusion. A music teacher at Taught to Teach, Anastazia first got a call from Yograj sometime in November. "I am truly blessed to have got this opportunity to do something different," she says.
"It was amazing to play with such talented women who are very inspiring. To cordinate with their time signatures was a bit challenging but the experience and exposure was very valuable," adds Felicia (who also teaches at Taught to Teach), noting that in particular the co-ordination between the tabla player and the drummer was very synchronised. And she's all up for doing more shows.
And indeed following the positive response for the show, plans are in fact afoot to have more shows in the future, informs Yograj. "We have one or two shows lines up by Ravindra Bhavan," he says, adding that he hopes to also extend the performance time of the band. "This last performance was about 45 minutes but I want to extend it to an hour and fiteen minutes in future," he says.
Related news