Encroachments on storm water drain infuriate Margao MLA
Story: the |

goan

|
13th March 2018, 01:18 Hrs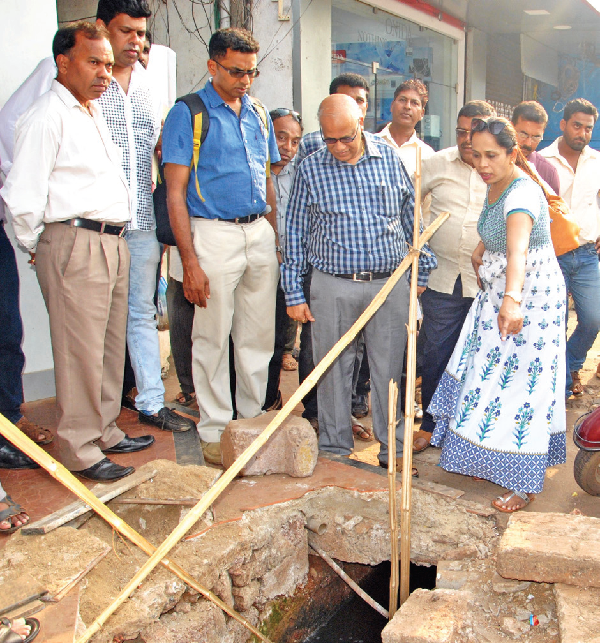 MARGAO
An inspection of an overflowing storm water drain in the heart of the commercial town brought to the fore lack of coordination between various government agencies to get the city households take the sewerage connections.
The ground reality prompted Margao MLA Digambar Kamat to issue directions to the Margao Municipal Council Chief Officer and the PWD, sewerage, to coordinate
and get the households connected to the underground sewerage line laid under the JICA project.
The Margao MLA also issued directions to the Water Resources Department (WRD) to find out the extent of encroachments on the main storm water nullah flowing near the Kohinoor establishment and to set in motion the process to raze down the illegal structures standing on the nullah.
The Margao MLA along with officials of the Margao Municipal Council, PWD, roads, water supply, sewerage, WRD and SGPDA descended near the Kohinoor drain only to find out that the nullah stands blocked with the overflowing water posing nuisance to the citizens.
MMC Vice-chairperson Tito Cardozo, ward councilor Damodar Naik, councilors Doris Texeira, Manoj Masurkar, besides MMC engineers were also present for the inspection.
After briefing the media, the Margao MLA spoke to MMC CO on how to go about making the households apply for the sewerage connections.
An agitated Kamat even remarked that the authorities may have to raze down the illegal encroachments by some shops.
What's interesting to note is that while the PWD, sewerage, has completed and commissioned the underground sewerage line along the pick-up stand road after spending huge funds, the households
have till date not obtained the sewerage connections. After this deficiency came to light, sewerage officials told the Margao MLA that it is the responsibility of the municipality to issues notices to the households or to crack a whip against the erring establishments and households.
Kamat later said he would ask the MMC Chief officer to immediately issue notices to the households and commercial establishments in the heart of the city to take the sewerage connections or face action.
As far as the Sulabh International toilets dotting the city are concerned, the Margao MLA said the Goa Sewerage Corporation will soon come out with a policy decision wherein the government will spend its funds to connect the public toilets to the sewerage line.
Related news