Traditional yet modern
In recent times, there has been a spur in restoring old houses which have been in ruins while maintaining the traditional architecture. THE GOAN looks into this trend
Story: PRADNYA |

GAONKAR

|
11th March 2018, 02:06 Hrs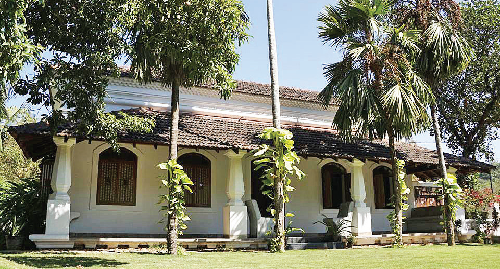 A heritage home converted into a guesthouse. A restaurant lodged in an old Portuguese villa. An old Goan mansion converted into a boutique. Indeed, there are just a few examples of the many offerings dotting the Goan landscape today. And these heritage home options are only multiplying by the dozen around Goa today. What is heartening to note is that the many palatial Goan homes are being restored keeping their old architecture more or less intact.
"There are two types of clients that we come across. One lot goes for converting the old houses into restaurants, guest houses and other commercial establishments that may use some aspects of the traditional designs. The other section comprises of people from other parts of the country who come to Goa to spend their holidays here. They purchase old houses and go in for building a holiday home where they can get their family and friends here and stay in a different ambiance then what they otherwise live in," says architect Chandan Parab, adding that while Goa is often tagged as a state known for it's Portuguese or colonial architecture, it is unfair to say that this dominates as Goa has traditional architecture of its own.
"Goan houses have evolved from Portuguese influence which is mere 30-40%. Portugal being a cold European country, we don't get to see the spacious verandahs and the balcaos as we do here in Goa. The kind of material used like the Azulejo tiles, the white plaster bands on the windows is what we have got from Portugal. What we see here in Goa is a fusion of Goan European style of architecture where the Goan traditional form is predominant," he explains.
One of the reasons why Goans are hesitant to restore their old homes is because genuine restoration work is a very costly affair andthe maintenance cost also increases with it. "Genuine restoration involves the use of oysters shells for the window panes, carving on the wooden frames, use of laterite stones, Mangalorean tiles for the roofing etc. The material used is very rare and also the specialized skilled labor involved is difficult to find and is very expensive. Ultimately the restoration cost equals that of building a new house overall," says Parab.
Even so, those who choose to restore whether for personal or commercial purpose usually add a modern touch to it. According to architects, people prefer sloppy rooftops due to the heavy rains experienced in this region. The climate is very humid here and mud retains the moisture which makes it difficult to maintain wooden floorings etc. "Many times clients who prefer traditional Goan-Portuguese designs in the exterior, go for modern amenities in the interior of the house. Every room will have an air conditioner, a swimming pool, attached bathroom to every bedroom with a bathtub and other attached accessories. But we still try to maintain the traditional touch by adding the antique furniture that is specific to this region, the red oxide floors (the color might change as per the design) etc. Even the ceilings at times are fitted with wooden planks which also helps in connecting the air conditioners' outlets. Even when we do the landscaping outside the house, we keep the locally grown trees as the climatic conditions are suitable for them and are low on maintenance," says Sushma Mohite, Manager at Chandan Parab Designs
The designs of the house have also gone through many changes wherein people prefer more open spaces, more glass panels, more amount of light coming in. Kitchens are getting bigger—what was once hidden away is now the epicenter of every home. The dining room is now getting included as part of the kitchen. It is more like a hub within your home for the family to gather together in one appealing space.
"The inclination right now is more towards combining the traditional regiments with the modern lifestyle," agrees architect Yogesh Pednekar. Havings worked on various restoration projects and also having rectified earlier restorations where the client was not satisfied with the earlier work, Pednekar however believes that it is difficult just to have a colonial architectural design here. "Even architects who have studied here were not taught Portuguese styled designs so what we see right now is more of a copy paste of few elements from either style of Goan and Portuguese designs. The huge element of traditional architecture is the proportions with which every aspect is designed. That itself is getting lost. For example, the windows have to be proportional to the rest of the elevations of the room which is not seen these days. So the challenge here is to get close to a traditional form of design," he says.
And architect Ketak Nachinolkar who just completed a temple project at Marcel and also another house restoration project feels that more people need to get back to the traditional look. "There is one section that would do up their old houses maintaining the traditional aesthetics of the same. Where in another section would go for a totally modern look. It is surprising that a section of people neglect the traditional form of architecture when it is very feasible, the raw material is available and labor too can be arranged for."
Related news