This Israeli is all keyed in to India
Story: CHRISTINE |

MACHADO

|
11th March 2018, 02:05 Hrs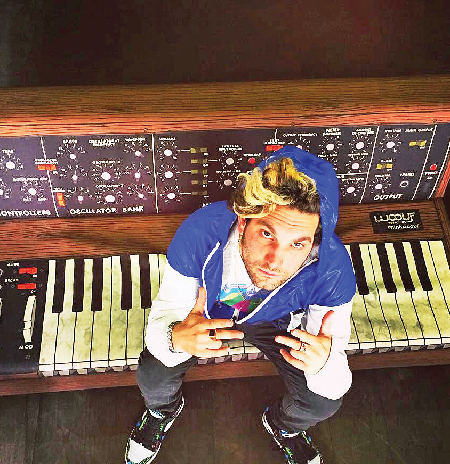 Just recently, Israeli electronic artist Hod Moshonov or BEMET as he is more widely known as happened to hear his tune Sababa playing at an Indian party much to his delight. The Bollywood infused Middle Eastern track was produced and composed alongside Nucleya and premiered at Sunburn and Supersonic last year. And the tune was met with much enthusiasm. "It is fun to see that people know the tune. I did the song just for myself and hoped that people would like it. I definitely did not expect the kind of success it generated," he says.
In fact, given the love for this tune, Moshonov decided to title his ongoing music tour across India as The Sababa Tour. The eight city tour curated by NCM Agency will come to an end with a final performance in Goa on March 12. This will be his second performance here in Goa, following his earlier show at a Holi event this year.
A jazz enthusiast from his childhood days, Moshonov began playing the piano first before discovering and reviving the keytar. "I love to move around a lot on the stage when I am performing and this is possible to do with a keytar," he says. Hod was awarded a full scholarship at Berklee College of Music at 18 years as well as being personally considered to Grammy Awards 58th nomination for the best contemporary instrumental album as a producer for the Dor Assraf's new album. He has recorded two albums - Inch Per Second and Time Groove Selections while the album The Chase After Tomorrow produced by Rejoicer received great reviews.
In India however, he was first discovered by the audience after he put out a funky cover of Nucleya's Mumbai Dance in 2016. Moshonov for his part has long since fallen in love with India and Indian music. "Every time I used to play my music people used to tell me that it reminded them of India. I find Indian music very rhythmic. It's all about the harmony," he says.
And while he is already working on more tracks with Nucleya, Moshonov also recently met and recorded with Bollywood singer and actor Hardik Sandhu. "I am also looking forward to collaborating with Indian female rapper Raja Tiwari," he says.
He will also be roping Baba Yoga soon, which he has worked on with his vocalist Tommy MC. "This track has hardcore Middle East ifluene, Russian influence and Indian melody," he discloses. Apart from this he will also be dropping his new track Chakadi featuring Indian/Israeli pop singer Liora Itzhak, a Bollywood singer from the 90's.
Related news