Mud+Plants= Org-Pots: Alvina targets a green business future
Story: BHARATI |

PAWASKAR

|
19th February 2018, 02:33 Hrs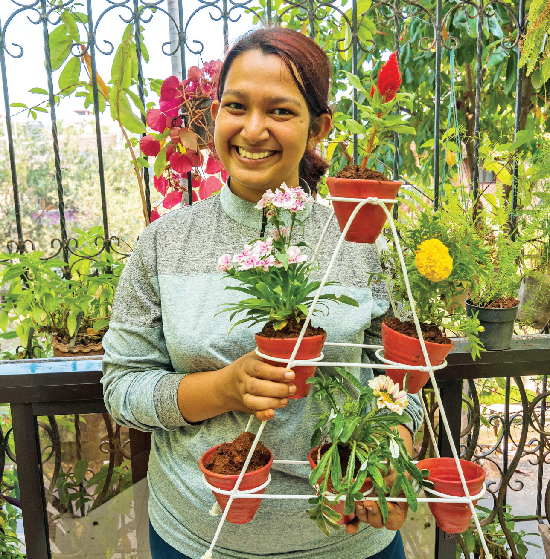 Alvina Almeida, a first year BSc student from Carmel College, Nuvem has won 12th National Business Plan Competition (NBPC) at Jaipur organised by I Create (I). What's so great about her, one may wonder. She's 18 and a budding entrepreneur who has big plans to start her business now and shape it in the next two years before she steps out of her college as a graduate.
Alvina's business plan of 'providing organic pot plant gifting to customers' in Goa was well appreciated by a panel of international judges and the audience. She is the first Goan Student to win this prestigious award which included a cash prize of Rs 50,000, proving her mettle by facing tough competition from participants among I Create's twelve centres across India.
"The objective of this competition is to promote a culture of entrepreneurship among the Indian youth while considering entrepreneurship as a viable career option instead of looking for a job in the industry or government," says R S Kamat, director general, Goa Chamber of Commerce and Industry (GCCI).
"I Create, a not-for-profit organisation, with its headquarters in Bangalore, has been operating in Goa to promote entrepreneurship among the youth and various self-help groups including women as well as unemployed youth. I Create – Goa centre is being actively supported by Smartlink, MPT and GCCI," briefs Mayur Arsekar, of I Create India. Mayur, an associate HR consultant at Husys Consulting Private Ltd, has been
After attending a five-day intensive business workshop for learning hard skills in November 2017 along with a PPT presentation on the last day at the Carmel College where she studies, Alvina learnt how to make a business plan as an entrepreneur would do it. She was introduced to the skills of business planning and development. Why a particular business plan should be made, will it be viable or not, will it click or not and if one wishes to start it, from where the seed capital would come and how would it be distributed while spending. There were five more students with her from Carmel College who attended the workshop, but Alvina was all keen to learn every nuance taught there.
In December 2017 she attended the regional business plan competition where eight colleges across Goa participated with different business ideas. There were two ranks - first and second and Alvina's business idea won the second place here. "My idea was to look at gifting of a potted plant commercially. This gift would have been the most ideal, most meaningful and eco-friendly gift anyone would ever like to receive. It would be available at a reasonable price too. Many ideas sprouted out of this one idea – like having a hydroponic farm, selling vertical garden sets which could even be customised. One can also make a kitchen garden with the plants received or replace a plant if it dies away instead of discarding the pot if it withers. The gift could be used for decorative purpose too.
As of now Alvina orders her pots, some of which are exclusively designed from potter at Socorro. Tortoise, fish, shells, frog are some of the designs she have chosen. She also plans to use used tender coconut shells for sowing and growing her seeds in the most natural way. "I would need a little over Rs 1 lakh to start my business which will be spent in purchasing raw material. Transportation cost, pots, mud, organic manure, plants, seeds and to buy or make vertical garden sets. Currently I make my own compost with our kitchen waste and some units are even three tiered ones," elaborates Alveena.
The two winners, Adil and Alvina were supposed to attend the National Business Plan Competition at Jaipur in January 2018. At Jaipur there were 12 participants with whom she had to compete. Alvina's father Socorro had accompanied her to Jaipur to attend this prestigious competition where luckily she won the first place with Rs 50,000 as prize money. "I got half my seed capital money as the prize for kick starting my entrepreneurship," smiles Alvina whose capital investment in her to-be enterprise 'Org-Pot', a green gifting company that would plant seeds and grow them organically in customised clay pots to be gifted commercially.
Alvina thanks three persons in her life for motivating her and inculcating in her love for nature – her mother Linda Almeida, her father Socorro Almeida and her granduncle late Fr Inacio Almeida. "All three of them have had great influence on my life," she admits, adding, "While my mom, a lecturer, is a plant lover herself, my father who's an engineer, always motivated me to be myself, to have confidence in myself. When I won the prize my parents were more happy than me."
"Alvina made me feel proud of her, because I have witnessed that it is not only excelling in education that fetches you name and fame. Even achievements outside the academic career can bring success to your doorstep," says her father and her mother. Sharing her business plan, Alvina explains that her initial capital, ideally should be 1.40, if she has to sustain. "With that much money, my break-even point will come in the fourth month of operation and I shall be reaping profit of Rs 20,000 in the 13th month."
The two months course she did at CIBA, Agnel Ashram incubation centre in Verna helped her a lot in gaining insight in business. "It taught us entrepreneurship in soft skills, schemes, ideas and enhanced our analytical skills. While the five-day workshop at I-Create taught us hard skills. I could extract the best out of both, and learn with devotion. My commitment has brought me here today and it's because of these skills taught to me, that I can dream of becoming an entrepreneur in teenage," she admits humbly.
Related news