Philippines firm bags bid to construct Mopa airport
Work to begin early March, phase-1 completion in 2022
Story: PANDURANG |

GAONKAR

|
15th February 2018, 02:24 Hrs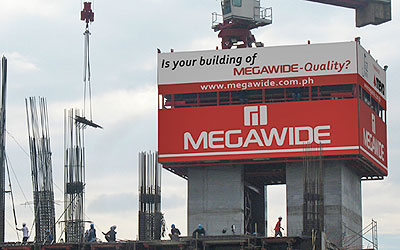 ABOUT MEGAWIDE
CONSTRUCTIONS
One of Philippine's leading engineering and infrastructure developers, with a decisive portfolio in Engineering Procurement Construction (EPC), Airport Infrastructure, Progressive Property Development, and Renewable Energy
---------------------------------------------------
Phase-1: Rs 1,900 cr
to be pumped in
>>
About Rs 1,900 crore will be spent for the construction of the first phase of the GMR Goa international airport, which is being built at a cost of Rs 3,000 crore. The GMR company has secured a loan of Rs 1,300 crore from Axis bank
>>
There was delay in floating a sub-contract for the work, but works like arranging airport land and removal of constructions were completed in time, enabling the company to start construction work at any time
--------------------------------------------------------------------------------------------------
PANAJI: Beating stiff competition from constructions companies in Turkey and India, the Philippines-based Megawide Constructions Corporation has bagged the contract to construct the proposed GMR Goa international airport at Mopa.
The GMR company has awarded the work to Megawide Constructions Corporation and construction work is expected to start from the first week of March. The first phase of construction work is expected to complete in 2022.
Megawide from Philippines, Limak from Turkey and Larson and Tubro (L&T) from India, had qualified in the initial round and the last tendering process was in progress.
All three companies were awaiting an NoC from the home ministry and there was a three-month delay as the companies got the NoC late.
All three companies were competent to undertake the project, but Megawide Constructions succeeded in bagging the tender during the last tendering process.
Recently, the GMR company in collaboration with Megawide Constructions had submitted tender for the construction of a new terminal building at Clark International Airport in the Philippines.
Related news