St Cruz MLA says he is with villagers on PDA
14th February 2018, 04:35 Hrs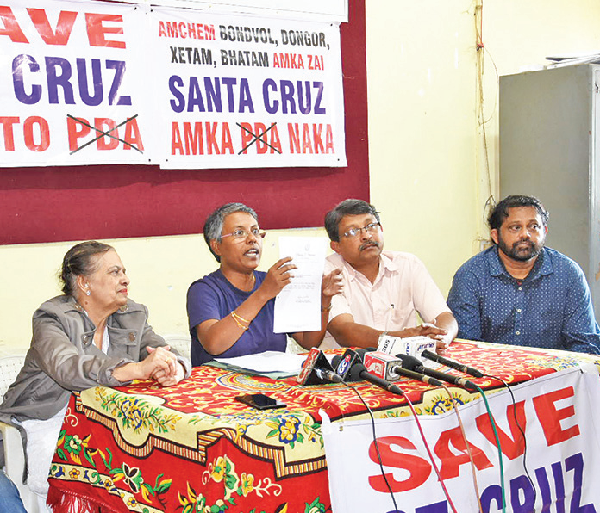 the goan I network
OLD GOA
Stating that he is with the people of St Cruz in their demand for exclusion of parts of the constituency in PDA, St Cruz MLA Tony Fernandes said he had already submitted letters to the Chief Minister and Town and Country Planning Minister to denotify areas of St Cruz constituency included in the PDA.
He also assured to take up the issue in the upcoming Assembly and demand de-notification of the areas which are included in the Greater Panaji PDA. "If the people do not want inclusion of village areas in the PDA, then I support their demand," Fernandes told The Goan, while informing that he would raise the issue during special demand in the Assembly.
"I have already submitted letters to the Chief Minister and the Town and Country Planning Minister to denotify areas of St Cruz constituency which have been included in the PDA," Fernandes further stated.
Meanwhile, the MLA also rubbished allegations of him accepting money, which have surfaced in a letter doing the rounds on social media.
In the letter, which is apparently addressed to the St Cruz parish priest, an unknown person claims that a meeting took place in a starred hotel wherein money was paid to the MLA, St Cruz sarpanch Mariano Araujo and former MLA Victor Gonsalves.
"I am ready to swear on God that I have not taken a single paisa from anyone," Fernandes stated while adding that he will never betray his people for money. "God has given me in abundance and I am happy with what I have," he added.
Santa Cruz sarpanch Araujo also ridiculed the claims in the letter and said that an attempt is being made to malign his name by his detractors.
"Similar allegations have been made against me in the past by my enemies and I have doubts that the same people are behind the latest incident," the sarpanch stated.
When contacted, former MLA Gonsalves also rubbished the allegations by stating that anybody can make false allegations and circulate them on social media. "A room number of the hotel, where the alleged deal took place, has been mentioned in the letter. Let anybody cross-check with the hotel whether I ever visited any room there," Gonsalves stated and demanded that the unknown person should come forward and reveal his identity first before maligning names of others.

Related news