Anjuna Gymkhana down PVC Parra for title
Story: the |

goan

|
13th February 2018, 07:20 Hrs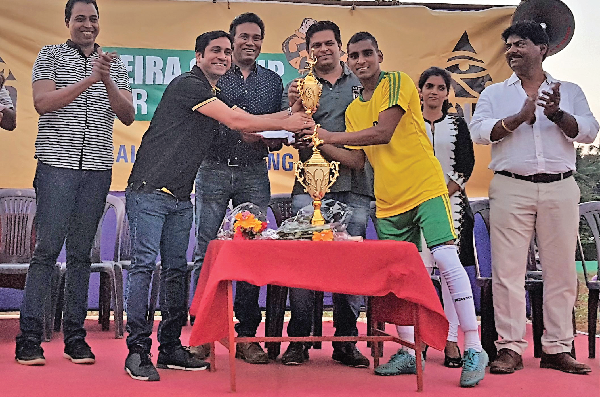 DULER
Anjuna Gymkhana Sports Club laid their hands on a glittering championship trophy of 12th Reira Soccer Cup, organised by Saligao Sporting Club, as they registered a 7-6 win via tie-breaker over PVC Parra Sports Club, played at Saligao grounds, on Sunday. At the end of regulation time, the teams were locked in a 1-1 draw.
It was Anjuna colts that drew the first blood in the very 3rd minute as Rohan Kambli slammed the ball into the goal from an acute angle. However, it did not take long for Parra to level terms as they scored from the penalty spot. Felix D'Souza was brought down inside the penalty box by Abhishek, prompting referee to point to the dreaded spot.. Rowen Pinto stepped forward and scored, 1-1.
On crossing over, both the teams played almost on an equal footing but their strikers failed to score due to superb keeping by both the custodians. Finally, the winners had to be decided via tie-breaker, where Anjuna colts proved to be better shooters, winning 6-5.
In the penalty shootout, for Anjuna Gymkhana colts, Rohan Kambli, Dinesh Moraskar, Akshay Dabholkar, Soma Korgaokar, Nitesh Salgaonkar and Tanay Naik were on target, while for PVC Parra, Rowell Pinto, Felix D'Souza, Waldran Martins, Ritesh Maulikar and Joaquim
Pacheco scored.
Jayesh Salgaonkar, Minister for Housing, was the chief guest; Atmaram Fulari was the guest of honour; Daryl Pereira presided, while Tony Remedios proposed a vote
of thanks.
Related news