'Agri Bazar' to boost farm produce in State
Story: the |

goan

|
13th February 2018, 06:43 Hrs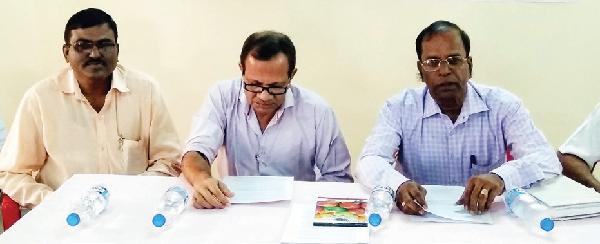 PONDA
Aiming to provide better facilities to farmers in the State, the Goa State Agricultural Marketing Board (GSAMB) has constructed the first-of-its-kind 'Agri Bazar' at Ponda Market Sub Yard, to be inaugurated by Union Minister of State for Agriculture and Farmers Welfare Gajendra Singh Shekhavat on February 16.
Addressing a news conference to unveil the board's plans for farmers, GSAMB Chairman and former deputy speaker Ulhas Asnodkar on Monday said the 'Agri Bazar' would be the first project of its kind in the country.
"The project addresses the need of traders and farmers, bringing all required facilities under one roof. The auction facilities will ensure a fair price to farmers and we are also planning e-auction, so that traders from any state can also take part," said Asnodkar.
The GSAMB has Market Sub Yards in Ponda, Margao, Mapusa, Sakhali, Valpoi, Pernem, Canacona and Curchorem.
"The GSAMB decided to upgrade facilities at the Ponda Market Sub Yard by constructing the Agri Bazar, with the aid of the Central Government under the Rastriay Krishi Kalyan Yojana (RKVY)," Asnodkar said.
The project, which will have 75 shops and godowns, is being built at an estimated Rs 29 crore, of which 75% is supported by the RKVY and is in line with the Government of India's vision for support to agriculture and forward integration of agricultural activities.
Chief Minister Manohar Parrikar, Union Ayush Minister Shripad Naik, Agriculture Minister Vijai Sardesai, South Goa MP Narendra Sawaikar, Rajya Sabha MP Vinay Tendulkar, Ponda MLA Ravi Naik and Curti-Khandepar Sarpanch Rukma Khandeparkar will be present on the occasion.
Stating that the project is being constructed in two phases, Asnodkar said the first phase of the project is ready.
Asked about the grading system for e-auctioning, Asnodkar said: "We will certify the farm produce brought by farmers for e-auctioning. We put in place all systems for e-auctioning so the farmers get a good rate for their produce."
He also informed that adequate storage facilities will be provided to farmers to store unsold commodities, which will be free to them. "But we will charge traders for this facility," said Asnodkar.
He informed that the project will include a cold storage with 20 tonne capacity and two smaller ones with ten tonnes each. A ripening chamber has also been constructed in this project.
Besides, an auction facility is being provided with electronic display, public address system, and weighing scales and auction prices will be linked with the Agmarket and eNAM for online monitoring of prices of commodities across the country.
GSAMB committee member Sunil Desai said the project would have parking facilities for 10 trucks, 70 four-wheelers and 130 two-wheelers parking, while a weigh bridge shall also be provided.
Other GSAMB committee member Kishore Mandrekar, Marketing Board Secretary Harishchandra Gawade and Suhas Sahakari were present at the news conference.
Related news