King Momo's rule begins today
King Momo 2018 Bruno Azaredo, who hails from Utorda, is all set to reign over the four day Carnival festivities which kicks off today
Story: CHRISTINE |

MACHADO

|
10th February 2018, 02:21 Hrs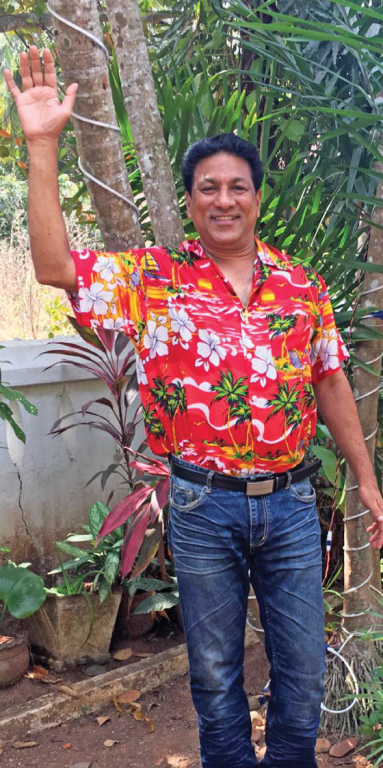 The colourful deco is up giving the state a cheerful look. Participants are busy adding their finishing touches to the floats. There's an eager anticipation in the air as Goa gets set to celebrate the unique and vibrant festival of Carnival. The four day festivity which begins on February 10 will be presided over by King Momo who will declare the decree of 'Eat, Drink and make Merry'.
This time around Bruno Azaredo has been chosen as the king and he could not be more excited. Azaredo who runs a cosmetic business has been involved in the carnival festivities for many years. "I used to make carnival shirts for people when I was around 18 years old and was also involved in the floats in Margao before. I was also one of the main dancers for the King Momo floats on two occasions," says Azaredo.
Azaredo was also a part of the Femina Miss India contest when Sushmita Sen was crowned Miss India here in Goa and also opened for the Asian Games in Delhi back in 1982. Apart from this Azaredo also modelled for some noted fashion designers.
"Getting a chance to be King Momo was the ultimate dream and so I decided to give it a chance and applied," he says. After going through a selection process, Azaredo was finally chosen to be king. And he has quite a few ideas on how the Carnival can become yet a more exciting experience.
"I would like to revive the Carnival like it was in the 80s. The 80s were a great time to see interesting floats on culture and traditional Goan dances. There was a lot of involvement and so much colour. The commercial aspect came in later. And while we do need companies to sponsor the event as it can be quite expensive, the commercialism tends to get a bit too much," he says.
What's more he has begun setting plans in place for a more spectacular event in the coming years. "I have friends in Brazil and Portugal who are involved in the carnival there. They are coming down to witness the carnival here and want to tie up with it. In fact, I have already spoken to the Tourism Minister about this," he says.
Azaredo also states that his message to Goans will be to clean up the state. "I was recently in Rajasthan where I happened to meet a few tourists. They told me that they don't want to come down to Goa because it is very dirty. Instead of blaming the government for this mess, we should unite and make it happen ourselves. I myself want to start this locally in my village of Utorda and we are planning on having a big drive in March," he states.
Apart from this Azaredo also wants to bring back the Goan culture which he believes is slowly fading away since the last 25- 30 years. "There are a lot of people who are trying to do this in their own way which I believe is beautiful because a lot of youngsters today don't know about the traditional dances and cultures. Tourists from all over the world want to see the local culture and mingle with local people. Thus we have to revive and bring back this lost culture and also depict more of our cultural heritage on the floats," he says.
Related news