Anveshan set to begin at GIM
This year, Anveshan centers around the theme –Embracing Disruption
Story:
#TGLIFE |
10th February 2018, 02:21 Hrs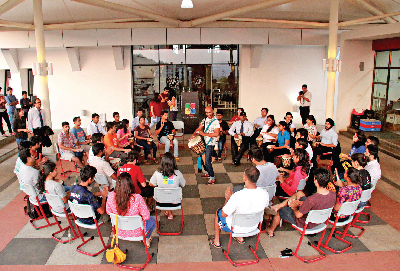 The sixth edition of Anveshan, a national level HR Symposium organized by HRiday, the HR club of Goa Institute of Management (GIM) is set to be held over the weekend with an aim to create a forum where management students across the country get an opportunity to interact with industry experts and showcase their skills in the field of human resources. This year, Anveshan centers around the theme, Embracing Disruption.
The two-day event to be held on February 10 and 11 will be an intensive affair, boasting of an illustrious panel of speakers, workshops and a national level case study competition among others. The various activities under the umbrella of Anveshan include Inquizitive, Gyaanodaya, Margdarshan, Samiksha and Yukti.
Anveshan 2018 will begin with the inaugural ceremony followed by Gyaanodaya, a series of talks on the industry by a key note speaker Girish Menon, Vice President-HR, Swiggy a food delivery app.
Gyaanodaya is set to boost Anveshan with a series of talks. Organized by HRiday, these talks will provide a platform for students to interact with industry experts and imbibe lessons from their experiences. During Anveshan, Gyaanodaya will feature Girish Menon, Vice President-HR, Swiggy. Girish Menon will impart his take on embracing disruption from the perspective of a corporate HR Manager. With over 15 years' experience in the industry including Flipkart, Citigroup, Temasek and HSBC Bank, the talks are sure to give students a brilliant opportunity to not only meet and interact with an industry expert, but also to deepen their understanding of HR.
Gyaanodaya will be followed by Samiksha, a national level case study competition which provides an opportunity to the country's management students to make solutions available to a live case study written by members of HRiday in collaboration with an organization. A flagship event of Anveshan, it has garnered participation from several top elite business schools of the country, including IIM Raipur, Welingkar, SCMHRD, MISB to list a few.
Day two will begin with Margdarshan. Margdarshan is an industry-student mentorship program which involves industry experts coming on campus and guiding the top six chosen teams through an exciting and electrifying simulation game. This event promises to keep the participants thinking on their feet. It will also demand that students apply their theoretical knowledge during the simulation game, while being guided by experienced professionals in the field of HR.
The day will conclude with Yukti a workshop on building networking skills by Runa Maitra, Founder and Director of People Talent. Through her workshop students will get an insight into the field of HR and the necessary skills required to adapt to the varying environments.
The results of national level online quiz competition 'Inquizitive' which was held on February 8 will be declared on February 11.
Related news