OYO refines hospitality trend in Goa
In a short span of time, OYO has consolidated a high number of rooms in Goa to provide accommodation to tourists of various income brackets. This has resulted in a win-win situation for tourists, hoteliers and also OYO. For smaller hoteliers especially, OYO comes as a blessing because it helps them in marketing themselves
Story: Karan |

Sehgal

|
05th February 2018, 03:35 Hrs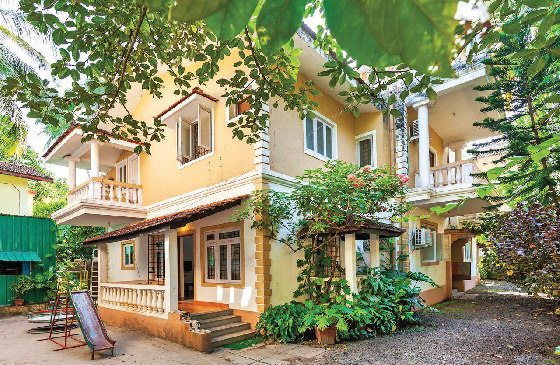 In the last week of December, between Christmas and New Year, a number of hotels struggled to fill their rooms, which is something Goa has not experienced for a long time. When enquired, sources attributed two reasons for it.
One, fewer tourists chose to visit Goa in the last week of December. And, two, OYO has consolidated a very high number of hotel rooms in the state, which has allowed it to provide accommodation to tourists at reasonable tariffs.
The way OYO works is that it controls the hotel rooms and homes in Goa from the perspective of tourism. These rooms and homes are marketed at OYO's portal and even on other portals like www.yatra.com. Due to this, the owners of these properties and homes are able to market themselves and find tourists.
Speaking to The Goan Everyday, Ritesh Agarwal, founder & chief executive officer (CEO), OYO, said, "For tourists coming to Goa, we offer quality living spaces in the budget or value segment through exclusively controlled OYO Rooms, OYO Townhouse in the mid-market category and differentiated stay experience via OYO Home, where over the last few months, we've unlocked over 500 homes in multiple formats, including villas, apartments, bungalows and farmhouses."
There are a lot of people, Goans and non-Goans, who own a second home in Goa. Such homes are typically lying vacant. A concept like OYO Home allows such owners of properties to make some return on their investment.
To tourists, OYO Home gives a chance to have a vacation and still feel at home. Once OYO takes over such homes, it refurbishes them and even designs them so that they are in line with the expectations of tourists.
Agarwal said, "All these homes are converted into designer properties. Guests love the well-designed spaces, comfortable beds, fast wi-fi and other amenities. And now, they can pay on arrival, easily get access to keys and also a local OYO Captain will be available for anything they need." But, it is actually the rooms segment, where OYO ties-up with people/properties, who have rooms available for tourists, wherein the company has brought in the biggest change in Goa's hospitality scene.
Agarwal informed, "Currently, OYO has nearly 3,000 exclusively controlled rooms in Goa. The OYO Rooms category falls under the average tariff-range of Rs 1,000-1,500 per night. We operate in a value economy segment by standardizing hotel accommodation to offer guests a predictable, affordable and accessible experience."
There are several room-aggregators, who put the hotel-rooms on their website and market them to tourists. What makes OYO different is the concept of OYO Captains, who are available 24 by 7 to provide assistance to guests. Such captains are available for helping the guests for all the categories of accommodation booked through OYO.
The category, where OYO has recently made a foray is OYO Townhouse. Agarwal said, "We've recently launched our first Townhouse in Goa, which is located at Ashwem beach. The travellers can book the Townhouse for a per night tariff of Rs 2,700-3,000."
These townhouses are positioned as friendly neighbourhood hotels, wherein not only tourists but also residents staying in the vicinity are encouraged to stay. OYO has standardised some elements of design of its townhouses across the country.
OYO is rapidly expanding its reach in Goa. When asked how the company decides on tying up with a hotel, Agarwal replied, "We ascertain that every property wanting to be a part of OYO's network is first thoroughly audited. A 150-point checklist is reviewed to transform a hotel into a branded OYO property. We also have an internal audit team at each cluster that monitors daily operations in these hotels."
He continued, "For our property audit team, we have developed an app called 'Krypton', which undertakes audits at OYO Hotels and raise any concern with the central teams to find an immediate solution. The Krypton app will record the audit report of a hotel only when the auditor is physically present at the hotel."
Local tourism stakeholders said that by consolidating the supply of hotel rooms OYO has helped smaller hotels in marketing themselves without any overheads.
Savio Messias, president, Travel and Tourism Association of Goa (TTAG), said, "Due to OYO, a lot of small hoteliers are really benefited because OYO helps them in marketing their property, which means that these hoteliers don't have marketing overheads. In fact, I know a hotelier, who earlier used to give all his rooms to charter operators but is now giving all his rooms to OYO. He told me that he is making much more revenue now."
Jack Sukhija, member, TTAG, said, "OYO has consolidated a lot of smaller hotels and marketed them quite well. If a company markets such smaller properties well and it doesn't end up becoming a monopoly, then it's good."
Related news