Tulsi Festival showcases an all-in-one ancient medical solution
Story: BHARATI |

PAWASKAR

|
05th February 2018, 03:34 Hrs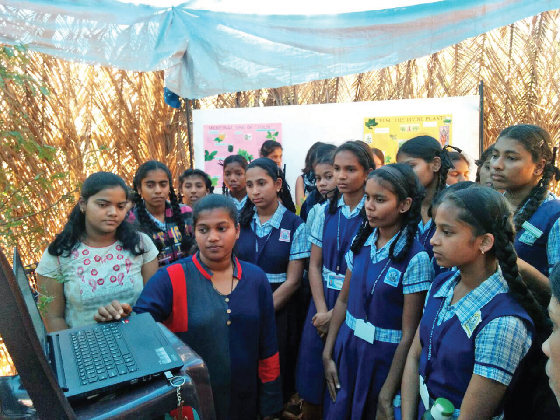 We all are aware of Tulsi or Tulas (holy basil), a common plant in most households which is known for its medicinal properties and is used as home remedy for many ailments. In modern medicine scientists and researchers in India are studying the pharmacological effects of various parts of the Tulsi plant on the immune system, reproductive system, central nervous system, cardiovascular system, gastric system, urinary system and blood biochemistry. Many pharma companies are manufacturing various products using parts of Tulsi plant.
Understanding the medicinal and health benefits of this plant that Ayurveda has named as 'sacred and incomparable' a festival dedicated to Tulsi was celebrated in South Goa recently which was attended by school and college students as well as general public.
Inviting a lot of attention to the benefits of this small wonder - Tulsi plant - and the products made out of this 'Queen of Herbs' witnessed an impressive sale at the two-day Tulsi Festival held at Big Foot, Loutolim. Commenced on February 3, the first of its kind, 'Tulsi Festival' witnessed footfalls from all over Goa, walking through the displays of various products made out of Tulsi and inquiring about its innumerable benefits on day one.
"The festival was a great success and some of the stuff exhibited for sale got exhausted on the first day itself," shares Maendra Alavares, proprietor, Big Foot who had conceived this innovative theme to introduce the medicinal properties of this little plant and its parts to the public. There were stalls selling seeds, saplings and hand painted clay pots with planted Tulsi and other medicinal plants for sale.
Products made of Tulsi, such as Tulsi extract, Tulsi drops, Tulsi gels and Tulsi beverages were also available for sale. Natural, a company manufacturing organic products had on sale, gels and extracts made from the Tulsi plant. "The Tulsi extract is used for consumption as it is known from aiding in the relief of diabetes and cancer," informed the stall owner who also had on sale, packets of assorted Tulsi seeds. As is known, Tulsi comes in a variety of categories, each having its own speciality and medicinal property. "The Big Foot complex houses 11 types of Tulsi plants," quips Maendra.
The Tulsi gel was priced at Rs 120 and Tulsi drops were sold at a concessional rate of Rs 400 (MRP Rs 437) at the festival. "These drops are wonderful," explains Nitin Keni, proprietor of the stall, explaining the benefits. "They are used as remedy for constipation, insomnia, immunity booster, cough and cold as well as instant energy formula. When added to water 99.8 per cent of the drops are absorbed and the water turns milky. When consumed on a daily basis the water has miraculous effects," says Keni, adding, "A bottle lasts for six months or 250 days and with two drops in a bottle, a refreshing, naturally flavoured, healthy drink gets ready." Keni also has Tulsi juice, with Papaya as its base and Neem, Tulsi and Aloevera - which oxidises the skin, disinfects and cleanses the blood.
In traditional systems of medicine, different parts of Tulsi — the leaves, stem, flower, root, seeds and even the whole plant has been recommended for the treatment of bronchitis, bronchial asthma, malaria, diarrhea, dysentery, skin diseases, arthritis, painful eye diseases, chronic fever, snake bites and scorpion stings. At the festival, the Department of Forest, Goa had a display of indigenous seeds, roots, berries, fruits and stems with medicinal value found along the Western Ghats. The officers present offered an explanation of the benefits of each item and a detailed method of how to use them.
The State Medicinal Plant Board of Goa too hosted a display of various medicinal plants with attached signboards describing the benefits and uses of each plant.
PES's Ravi S Naik College of Arts and Science, Ponda presented a stall with charts describing the breakdown of the Tulsi plant, including detailed explanations of the chemical-phyto constituents produced by the Tulsi beneficial to humans and a brief glance at the mythological and traditional significance of Tulsi. The students explained to interested visitors via a power point presentation.
The Gomantak Ayurved Mahavidyalaya and Research Centre displayed a variety of raw materials used for the preparation of medication, all collected and preserved from their very own five acre garden with 350 species. "All our plant got sold. We also had seeds for sale. The price of our Tulsi powder is Rs 200 per kg," explainedDr Sangaram Keshari Das, a physician from this Ayurvedic College from Shiroda, adding, "This powder is mixed with other ingredients and the concoction is prescribed as per requirement of the patient." The students and teachers interacted with the guests explaining the uses of various parts of Tulsi plant and taking them through the preparations. They also had information charts about fruits and the home remedies that can be obtained from each.
Pooja Bhat and Raksha H P hosted a fun little stall selling a refreshing Tulsi beverage. Made of Tulsi extract dissolved in water and mixed with lime, honey and mint and garnished with fresh leaves, this drink was sold for just Rs 10 and over 1000 guests enjoyed it. The stall also has Tulsi essential oil, sold for Rs 150 per bottle."The Tulsi saplings planted in handpainted earthenware pots were the centre of attraction and dozens of these got sold as they were priced at Rs 60 each," says Pooja.
Related news