Celebrating cultural plurality
The fourth edition of 'Sur Jahan' will see artists from 26 countries coming together for a three day musical bonanza at Kala Academy, Panaji
Story: BHARATI |

PAWASKAR

|
31st January 2018, 05:51 Hrs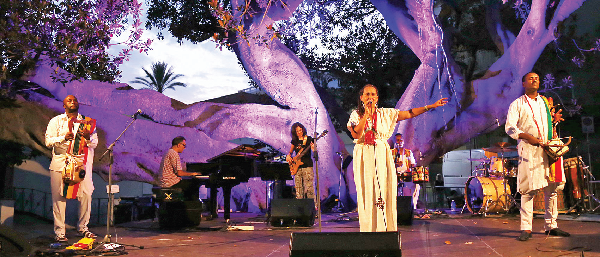 Eight years ago, the first edition of Sufi Sutra ( now known as Sur Jahan) took Kolkata by storm. Conceptualised, designed, curated and presented by banglanatak dot com, that specialises in culture and development, the festival which celebrates cultural plurality and aims at fostering peace witnessed participation from countries around the world. It was in 2011 that the festival spread its roots to Goa.
" Sur Jahan aims at creating a platform for cultural dialogues and exchange to broaden awareness and understanding of various cultures and to develop appreciation of the diversity to foster peace. Since its inception in 2011, the festival has had participation from 26 countries and 12 Indian states. Our motto being 'Music for all and music for peace', we have maintained it as a non-ticketed free public festival with open entry for all," says Amitava Bhattacharya, founder, 'banglanatak dot com' - a 17-year-old social enterprise, recognised by the UN and which has its headquarters at Kolkata and projects across India and abroad. The cultural get-together encourages artists from India and abroad to have residencies which include workshops, collaboration and performances.
Having had successful runs in it's previous editions, the festival is now back with it's fourth edition which begins on February 7 and will include performances from world renowned artists including singers, musicians and performers who will exhibit their art to Goan audience.
Finnish performance group Tuuletar will open the festival this time around. This vocal performance group is formed by four diverse women from Finland who have been singing, composing and performing together, creating their own identity using music, taking inspiration from American Hip Hop to South Asian folk and releasing their debut album Tules Maas Vedes Taivaal in June 2016. The album rose right up to the Top 10 in European World Music Charts as well as Transglobal World Music Charts.
Also performing on the first day is the Hungary folk music group Muzsikas which has been on the scene for over four decades now. The four member band is known for its unique musical skills, versatility and collaborations with various other artists of different genres like world music, classical, klezmer, jazz, etc. Muzsikas often combine traditional Hungarian folk music with the classical compositions of Bartok, Kodaly, Kurtag and many others and have won the prestigious WOMEX Award for World Music too. The ensemble will be accompanied by two guests: Hanga Kacsó, singer and István Berecz, dancer.
The second day will see a performance by the Bengal-Goa musical ensemble followed by a workshop on the next day. Bengal Goa Musical Ensemble represents a collaboration between Folks of Bengal with two iconic musicians of Goa. There have been many collaborations between Goa and Bengal musicians in the last four years and three music albums have also been released. In this particular ensemble, Folks of Bengal is represented by both urban and rural traditional folk musicians covering various forms of music, including Bhawaiya, Baul and Jhumur. The participating artists have their own bands and identity. They frequently collaborate with other folk artists for meaningful exchanges in this pursuit and have participated in festivals around the world. The ensemble takes its audience on a journey through the traditional music pathway of Bengal with a unique Goan sound.
Polish folk band Muzykanci will also be live in action on February 8. Muzykanci is famous for its incredibly talented musicians and their ways of uniting their individual styles. From performing at village weddings to the world's biggest festivals, Muzykanci has been consistently experimenting with music and making thrilling versions of Polish folk songs. Set to a musical palette of accordions, their music reaches out to everyone, transcending all barriers.
Cheikh Lo from Burkina Faso in West Africa will wrap things up on the second day and give the crowd a mix of mbalax, reggae and soukous influenced music in his performance.
The final day will see a performance by the Nizami Khusro Brothers who head the Qawwal Bachhe and Delhi Gharana. Led by Saqlain Nizami, this group is well versed and can perform in several languages, such as Ar​a​bic, Persian, Hindi, Urdu, etc. They have total mastery over various genres of classical music, such as Dhrupad, Khayal, Tarana, Thumri and Dadra, which they blend beautifully with Qawwali.
Related news