Touching and transforming lives
Working towards empowering the weaker sections of the society by initiating projects in health and hygiene, environment and education, infrastructure development, solid waste management and women empowerment - Mineral Foundation of Goa continues to work for the betterment of society
Story: BHARATI |

PAWASKAR

|
26th January 2018, 02:03 Hrs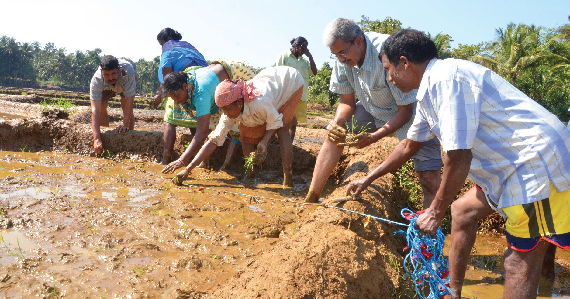 It's the little drops that make the ocean. In the same way, it is only through the upliftment of the marginalised, weaker sections of the community that a society, a state or a nation can prosper. Believing in this simple principle, the Mineral Foundation of Goa has been tirelessly working to achieve this goal while helping various strata in the society to develop and grow. Since it came into being seventeen years ago, it has initiated various projects covering 32 panchayats in six talukas - Bicholim, Sattari, Ponda, Quepem, Dharbadora and Sanguem .
"Our aim is to promote social investment programmes through capacity building of stakeholders, participatory decision making, support ongoing efforts and to pool together activities to improve the natural environment for the sustainable development of the mining belt of Goa," briefs Sachin Tendulkar, CEO, Mineral Foundation of Goa (MFG). Associated with MFG since 2004, Sachin has been its CEO since 2015.
"Since its reception in December 2000, MFG has spent Rs 50 crore in implementing various projects across Goa. During the year 2016-17 we spent Rs 6.5 crore and this includes Rs 3.3 crore spent on constructing toilets. We act as facilitators and support the efforts of the government, providing technical expertise in capacity building of the weaker sections of society," shares Sachin, a PHD in agriculture who enjoys practicing farming on the weekends.
There are around 8000 plus self-help groups in Goa activated for various reasons and motivated by different individuals or organisations. The credit of mobilising over 300 of them goes to MFG. Having worked on different project, Sachin informs that the latest one is being done together with NABARD.
"We are digitally capturing the data of each self-help group (SHG) in six talukas under the project E-Shakti which aims to digitise all SHGs across Goa. These groups will be given an E-Shakti format. The data will be collected with the help of volunteers trained by us. This data includes details of these SHGs like saving/credit account numbers, individual member details like Aadhar cards, economic status etc which will be made available online for banks and non-government organisations," briefs Sachin.
The second phase of this project will begin in Bicholim by capturing data of women self-help groups.
"Under women empowerment programme we have formed and motivated 320 SHGs in the mining area. These groups are trained in various skill development techniques like handicrafts, making rexine bags, embroidery, making agarbattis etc. We wish to make these women self-dependent so that they can earn their own living using their skills," says social officer Shraddha Dalal who has been with MFG since 2004 and is currently looking after women empowerment and education projects.
"We also have individual and group entrepreneurs who participate in exhibitions, sale in shops, super centres, malls etc. Apart from this, we also offer awareness lectures for SHGs on credit linkages, schemes by government, breast cancer and other social and health issues," discloses Shraddha. The centre has also started an incubation centre in association with Keshav Seva Sadhana in Bicholim. "Special children and the SHG women from nearby villages utilise the machinery installed by us for making products like agarbatti, candles, paper quilling articles, paper plates and paper cups etc. MFG helps them in marketing their products," discloses Shraddha.
Having previously been involved with watershed projects at Rivon, Malkarne, Mayem, Pirla, Cavrem, Maskavare which were carried out with the help of the Goa Agriculture Department, they are currently involved in the watershed work at Adne-Balli which is being done with the help of Goa Shipyard.
"We have also facilitated the Gram Nirman project of building infrastructure in two village panchayats - Mayem and Kirlpal-Dabhal and also helped to start 'home stay' at Verlem in Sanguem and Taldem in Dharbandoda," briefs Sachin. Although the flow of funds has stopped since the mining activities in the state came to a stand still, the work continues unhindered and undeterred.
"Whatever funds are available with us, are being spent on the ongoing projects," states Sachin. In 2016-17, 540 toilets were constructed in addition to 16 segregation shades for panchayats, a vocational incubation centre for Keshav Seva Sadhana (Bicholim) and Lok Vishwas Pratisthan, Shirvai where the special children are trained in crafts like handmade paper, agarbattis, patravali, aakash kandils etc. In educational institutions, 17 incinerators were installed for disposing sanitary pads and girl students have been trained on how to use them. "We are also training teachers in improving their speaking quality and have so far covered 150 anganwadis. For solid waste management, we are offering technical expertise to 16 panchayats. Also scholarships have been distributed to 350 children," says Sachin, adding that high priority to educational projects as it empowers people to create livelihood other than mining.
Related news