RTO officials defy Vijai's 'fiat', make their presence at junction
13th January 2018, 03:14 Hrs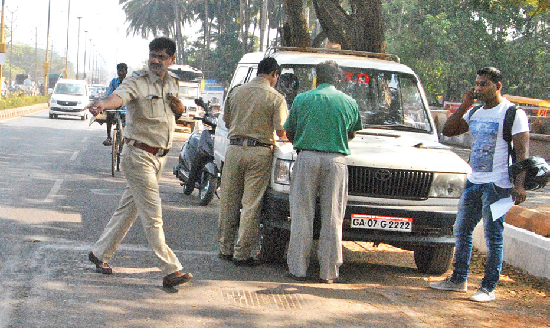 the goan I network
MARGAO
Virtually defying the fiat issued by TCP Minister Vijai Sardesai not to camp at the SGPDA junction on the district court-Ravindra Bhavan circle, RTO officers made their presence felt at the junction, going on a challan spree on Friday morning.
The RTO officers went about their job of stopping two-wheelers to check the documents and issuing challans. The presence of the RTO officers at the PDA market junction was later brought to the notice of the TCP Minister, who was around the same time presiding over a function organising a job fair for the unemployed youth.
The TCP Minister was believed to have then telephonically spoken to some officers, and it could not be ascertained what transpired after the conversation.
When the media called up the TCP Minister in the evening after the function held to lay the foundation stone for the sewerage work, he said neither RTO officers nor the Fatorda police personnel would camp along the district court-Ravindra Bhavan road in the future. "This road is being beautified befitting the historic Opinion Poll. These RTO officers or the police cannot come there and park their vehicle and go on a challaning spree. Is the RTO doing the same thing along the Campal road at Panaji," he questioned.
Related news