The tale of an unknown diplomat
Filmmaker Nalini Elvino de Sousa's upcoming documentary 'Special Envoy' highlights the little known mission of Aquino de Braganza, a Goan, in Mozambique's freedom struggle
Story: CHRISTINE |

MACHADO

|
11th January 2018, 06:27 Hrs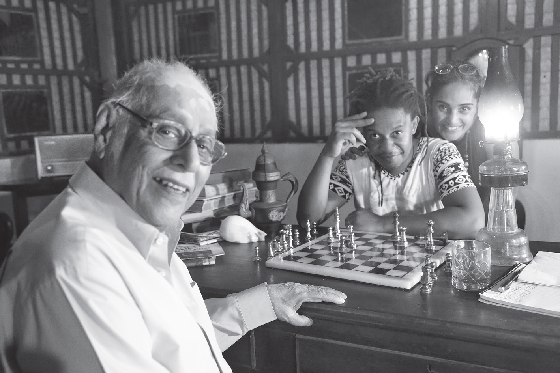 From war films like the recent Oscar nominated Dunkirk to historical biographical films like Victoria and Abdul, there has certainly been a growing interest in films which delve into historical events. Seeking to bring out the story of a lesser known but interesting figure in history who also happens to be a Goan, filmmaker Nalini Elvino de Sousa has created a documentary Special Envoy which she hopes to release in the coming months.
Special Envoy, a co-production between Lotus Film & TV Production (India) and Real Ficção (Portugal) is a tribute to the dauntless spirit of Aquino de Braganza, a Goan in Mozambique who played a key role in the freedom struggle of the colony.
"We don't have many documentaries which connect India to Africa, especially Portuguese Africa. And while there have been books written about the importance of Goans in English Africa not much has been written about the contribution of Goans in Portuguese Africa. And Aquino played a very important role in the liberation of the Portuguse colonies there," states Nalini.
In 1974, the Carnation Revolution rocked Portugal which overthrew the authoritarian regime of the Estado Novo. Following this, everyone expected that the colonies would be granted independence as a result, states Nalini. But this wasn't so. It was then that Samora Machel, the first president of Mozambique requested his good friend Aquino to intervene and approach the Portuguese leaders on their behalf. "Thus Aquino went as a special envoy to Portugal and had several meetings with leaders there to try and an agreement was finally arrived at to grant independence to Mozambique and later the other colonies," explains Nalini. And while Aquino's good work is recognised in Mozambique with even a road named after him, not many in Goa, know about this great man, and hence Nalini decided it was time to change this.
"I first came across Aquino on the internet through Frederick Noronha and recalled that I had heard about him before. Aquino was in the same fatal plan crash which killed Samora Machel on October 19, 1986, which happened to be my birthday," recounts Nalini, who then quickly began researching about him and became convinced that this was a tale that needed to be told.
Frederick put her in touch with Silvia Braganza, Aquino's wife who had also written a book about him. "It was through her that I went to Mozambique and spoke to many of Aquino's friends there and later even met his daughter in France. I also visited Portugal for the film and even spoke to a few people here in Goa who had lived in Mozambique and later came to India after Independence," says Nalini.
Interestingly Nalini uses the game of chess as a metaphor in the politics game. "I had a read a book on how life is game of chess and was intrigued by the concept. I then met chess master Shrikant Bharve and discussed the story with him . He helped build the game according to the most important moments of Aquino's life," explains Nalini. Unfortunately the actor who is seen playing chess in the film Joaozinho Proenca, who happens to be Aquino's cousin, passed away recently. The narator of the film is also one of Aquino's best friends Fernando Vaz who is almost 90 years.
The film which was completed with the help of crowdfunding has been four years in the making and Nalini aims at releasing this April in Maputo, Mozambique. And she is hoping that Graca Manchel, who is the widow of both Samora Machel and Nelson Mandela will be present for the screening as both men are featured in the film. "I also hope to show the film in South Africa and also hope to show it at the International Film Festival of India later this year. I also want to take it to Portugal so that all those who were part of this freedom struggle can watch it," says Nalini.
Related news