Stories of sound
Ranjit Pais is seeking to bring back the purity and spontaneity of live music gigs with the Eternal Sound Project
Story: CHRISTINE |

MACHADO

|
30th December 2017, 02:28 Hrs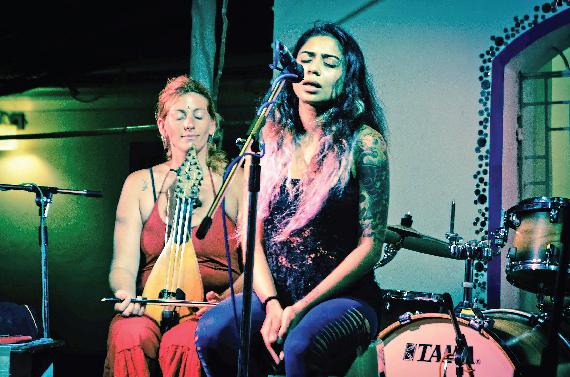 Back in Mumbai, some years ago, Ranjit Pais, who together with his wife Ruchi are noted hairstylists, attended a concert by the legendary Sting, but came a way a tad unsatisfied. "The music was amazing, but you couldn't hear anything because there were some youngsters who were loudly discussing plans to go to some club,"he recalls. A similar experience here in Goa later where he was unable to thoroughly enjoy a performance by a New York band, also left him frustrated and nostalgic about the music scene in the 80's.
"I remember going for a concert in Mumbai sometime in 1986 where the crowd were just sitting on the floor and there was a very Woodstock like vibe about it," he states. Live music in those days, he says, was very different from the scene now. "In those days, the music was very raw. There didn't need to be an excuse for live music to happen. Now though, it has to be strategized, there has to be a sponsor and all these other frills. It's more about the sponsor and less about the music today," he laments. The scene in restaurants too, saddens him. "Live music today has just become a tool to fill up the seats and this has led to less original music. The bands that are doing the most predictable music are getting paid the most which is really sad. People have lost sight of the spontaneity of music," he says.
All this got Pais thinking about bringing back this spontaneity. "Why do we have to wait for an event for music to happen?" he says. As he was still trying to figure out how to go about this, he happened to attend a rave party in Mumbai which was out in the open away from the city noise and the plan began to fall into place. With the help of musician Colin D'Cruz, he put together a gig at the same venue where around 100 odd people who were absolute music lovers showed up.
Gradually he began to organise many more such curated shows where he put together interesting music for an interested audience. The shows are held at offbeat locations that give off a Woodstock kind of feel and it is all crowdfunded. The audience, he says, is as curated as the music itself. "A lot of times when I am giving a haircut, I tend to blabber about music a lot and if I discover people who are as interested I make note of their names and accordingly keep them informed about these shows. At the same time I also take down numbers of people at gigs who look excited to be here, and that's how my band of crazy people increases," he says smiling.
When he moved to Goa five years ago, he first began with having a gig at a friend's house. "There is no place like Goa in the country and it is perfect for music and creativity," he says. He has since had shows at Arambol Sweet Lake, Living Room in Vagator, House no 248, Sangolda, 604 in Vagator and a few secret locations. "Initially my intention was to keep it off Facebook and of the radar completely. These were invite only gigs. But now I feel the need to make it bigger," he says, adding that his strategy has also changed along the way.
"In Goa there is so much jamming happening that people don't take it too seriously. So my focus changed to doing collaborations. For instance I would team up a hand drum player with a sitar and flute player etc," explain Pais. However, he has now shifted to getting in bands. "I am looking for musicians who are open to experiment and do something out of the box. At the moment I can offer the same amount as what an average musician gets paid but with the support of the audience who sees what I am trying to do this can increase. I also want to get in some great acts from cities like Mumbai and Bangalore," he states. "Right now I am not guided by need to make money. It is just about creating something. I know the money will come in eventually."
(The next episode of the Eternal Sound Project will feature The Camel Riders and will be held on December 30, 7.30 pm at House No 248, Sangolda.)
Related news