Signals, Vasco in goalless draw
army men move to 11 points, port towners take their tally to 7 points after duler stalemate
Story: the |

goan

|
08th December 2017, 07:32 Hrs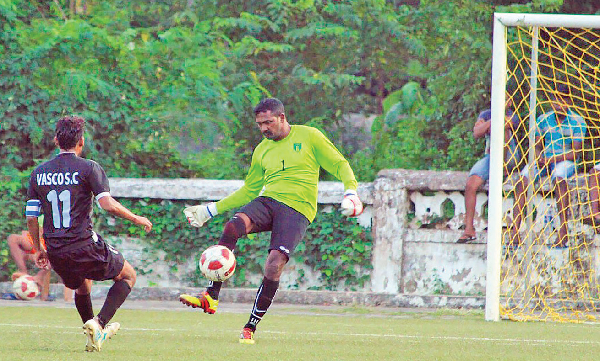 MAPUSA
Corps of Signals Sports Club, backed by their vociferous supporters, managed to hold Vasco Sports Club to a goalless draw in the seventh round match of the Goa Professional League organised by GFA, at Duler stadium, here on Thursday. After the result, Corps of Signals have 11 points, while Vasco have 7 points.
Vasco coach Eban Mesquita made just one change with his new signing goalkeeper Amit Biswas getting a game. On the other side, the Corps of Signal coach Sub Rateesh R brought in four changes to his starting line-up -- Chandan Singh, Paul Victor, Nitesh Parwar and new signing
Kejinis K.
The Port Towners, after having lost their last league match against SCC Cavelossim, played earnestly and had two chances to take the lead early in the match. In the 4th minute, Minesh Kunkolkar's free-kick was saved by Signals keeper Binu Purshothama. The keeper was back in action as he collected a hot-blooded shot from Nigerian John Nnanna.
In the 27th minute, Signals' Harshad Thube drilled a 25-yard shot which went just over the Vasco crossbar. At the other end, Vasco's John Nnanna headed the ball to Schubert Pereira but the latter failed to keep his strike inside the goal framework.
The best chance for Signals to score came in the 32nd minute when Harshad Thube's scorching right-footer saw Vasco keeper Amit Biswas fumble with his collection but, before any damage could be done, Vasco's Treyson D'Costa came with a timely clearance. In the 38th minute, Sushant Borkar was well positioned inside the Signals penalty box but his strike missed the target narrowly.
Another chance went in vain for Signals in the 45th minute where a corner from Pawan Thakur found Harshad Thube, whose goal-bound shot was cleared on the goal line once again by Treyson. A minute later before the breather, Signals Lairellakpam Singh's stinging shot from outside the penalty box was pushed for a corner with a full-stretched diving save by keeper Amit Biswas.
Hardly had the spectators taken their seats in the stadium, Vasco's Anil Gaoncar dribbled past two rival defenders and shot at the goal, only to find Signals defender Paul Victor head the ball for a corner on the goal line. It was a bad day for the Vasco colts as two more chances from their strikers went in vain.
In the 61st minute, Anil Gaoncar's short corner found Deryl Endro at the far post where his strike was smartly blocked by keeper Binu Purushothama and it went for a corner. The Vasco colts were once again unlucky when in the 80th minute, Schubert Pereira collected a pass in the midfield and after covering some ground drilled a 25-yard shot which was once again pushed for a corner by keeper Binu.
A point for the Army men from Thursday's match was a fair result which saw the large supporters who had travelled in four trucks return home content after having cheered their team with drum beats and trumpets.
Related news