Full-fledged ops of Margao ESI hospital likely to start by March
Just imagine a situation when a 100-bedded state-of-the-art hospital inaugurated in 2014 is finally expected to start full-fledged operations four years later in 2018.
Story: the |

goan

|
08th December 2017, 07:21 Hrs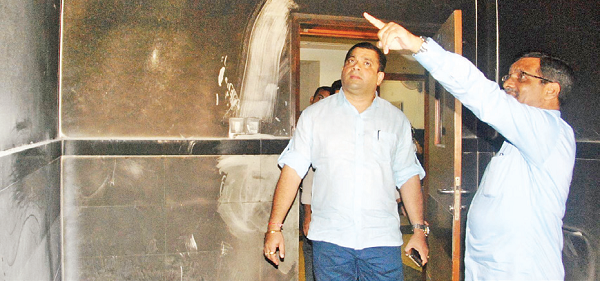 MARGAO

Indeed, full-fledged operations of the ultra-modern ESI hospital at Margao is all set to start from February end or March 2018, nearly four years after the hospital was inaugurated by then Union Labour Minister Oscar Fernandes in the presence of then Chief Minister Manohar Parrikar on March 3 in 2014. That's not all. Though the hospital was inaugurated at the hands of Oscar Fernandes in 2014, the hospital will be finally handed over to the ESI only by this month end.
During his near four-year period, a number of posts of doctors, and paramedics are believed to have lapsed and the government has now decided to revived these posts simultaneously so that the required infrastructure, including equipments, facilities and manpower, are all put in place before the full-fledged operations commence by February end or March 2018.
This became apparent after Labour Minister Rohan Khaunte inspected the ESI hospital here on Thursday and later had a high level review meeting with officials of the ESI, Labour Commissioner, contractor, OSD Sabbaji Shetye and others to discuss and overcome the teething problems stalling the full-fledged commissioning of the 100-bedded hospital.
"Commissioning of the ESI hospital was delayed for reasons unknown, but this government is working towards starting the hospital within a time-fame by putting all facilities, machineries, equipment and manpower in place. By December end, the hospital building will be handed over to the ESI and the inauguration date will be finalised after discussing with Chief Minister Manohar Parrikar. Besides the hospital infrastructure, we have also discussed how to handle the scope of security and housekeeping in the long run," Khaunte added.
When his attention was drawn to several deficiencies in the hospital used by the labour class and employees covered under the ESI scheme, the Labour Minister sought 3-4 months time to put the entire hospital in place.
"We have not only decided to put in place the equipment and manpower, but has defined the role and responsibilities of the administration," he said.
Replying to a question on the manpower requirements, Khaunte said the required manpower will be in place before March.
"We are dealing with a government entity and not a private enterprise. Hence, we have to follow the set guidelines when it comes to manpower recruitment. Doctors, nurses, technicians, besides issues relating to security and housekeeping will be addressed before March 2018," he said, while seeking three more months to complete the project and put the hospital in place.
Related news