Sonsodo waste mgmt: Consultant renews offer, but with condition
Wants MMC, Fomento Green to incorporate amendment in agreement
Story: the |

goan

|
08th December 2017, 07:18 Hrs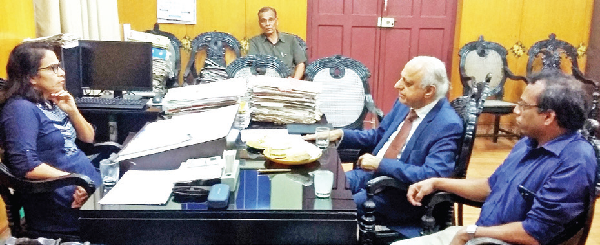 MARGAO
Nearly four years after he had offered to help the civic body on the solid waste management front, Ahmedabad-based solid waste management expert P U Asnani repeated his offer to the Margao Municipal Council on Thursday on condition that the civic body and Fomento Green incorporate
the amendment in the Concession agreement between the two parties.
The Ahmedabad-based consultant, who had made his presence felt at the Sonsodo site on Thursday along with MMC Chief Officer Johnson Fernandes, Fomento Green CEO Sridhar Kamat and others told The Goan that the Margao Municipality and Fomento Green will have to first agree on the amendment to the Concession agreement before he is called by the civic body to evaluate the work carried out by Fomento at the waste treatment plant.
"Last time round when I had come down to the Margao Municipal building, I had expressed my willingness to help the civic body to asses and evaluate the work of Fomento Green at the waste treatment plant. At that time, I had made it very clear that the MMC and Fomento should work on the amendment to the Concession agreement before he accepts any offer to help the civic body. The ground reality has not changed till date and unless the amendment is agreed upon by both the MMC and Fomento, the question of assessing and evaluating work at the treatment plant will not take place," Asnani said.
When asked to share his experience of the functioning of the waste treatment plant at Sonsodo, Asnani said some measures need to be adopted to ensure that the plant runs effectively. "There's a complaint that the plant receives mixed waste wrapped in small plastic bags. There's a need to either employ a shredder to rip open the plastic bags or engage labourers to cut open the bags and ensure the bags do not reach the end point," Asnani said.
Asked whether he is satisfied with the churning of compost at the treatment plant, Asnani said, "I feel that may be only two out of the total 60 tons of waste received at the plant may turn out compost when it ought to have been in the region of 6-8 tons. Certain measures need to be taken to address the issue."
Fomento Green CEO Sridhar Kamat informed that the percentage of compost totally depends on the nature of the waste received, adding "when you receive huge quantity of plastic waste, the compost component will be certainly less".
MMC Chairperson and Chief Officer Johnson Fernandes later had a closed door meeting with Asnani, seeking his views and opinions on a host of issues to put the city's solid waste management project back on track.
Related news