All things Goan
It's time to get soaked in Goan traditional heritage as two new and unique festivals– 'Muzgachem Fest' and 'Ekvottachem Fest' are all set to take place over the weekend
Story: CHRISTINE |

MACHADO

|
08th December 2017, 06:35 Hrs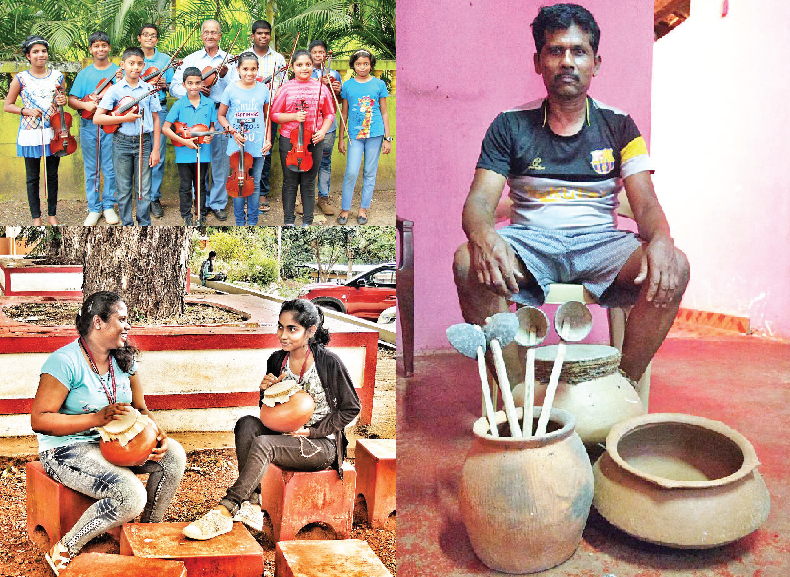 If you're looking to learn more about Goa's unique culture and traditions, head over to the Carmel College for Women, Nuvem for their one of a kind Muzgachem Fest which is all set to wow locals and visitors alike on December 9. Having previously initiated interesting heritage festivals like Denneachem Fest, Patoienchem Fest, Poderanchem Fest, Ghumtanchem Fest, Ramponnkaranchem Fest etc, the festekar of Goa ( festival man of Goa), Marius Fernandes has now teamed up with Carmel College for yet another new festival. "I have volunteered with Marius for a few of his festivals in the past and was struck by the idea of taking it to our college," says Glenis Mendonca, a professor at Carmel's College. "At the same time we wanted to break the trend of inter-collegiate festivals and instead do something which was ethnic and eco-friendly."
The Principal, Sister Aradhana A.C. was wholly supportive of the idea and thus, planning for the festival began about a month ago. "The festival which is entirely in Konkani is completely women driven and thus is an opportunity for women empowerment with women leading the the various events at the festival," says Mendonca, adding that over 600 students will be participating in this festival which will focus on Goan heritage, music, art, theatre, food, traditional board games etc.
"'Muzgachem' refers to music in Konkani, but we have taken it in the broader sense of the word to refer to all art and culture," states Mendonca. And the fun has already begun before the big event with plenty of workshops at the college campus. A three day workshop on Konkani songs was conducted by Mendonca herself a few days before the event while noted dancer Clizma held a dance workshop. A ghumat workshop by Pandurang Phaldessai, a tiatr workshop by Michael Gracias and a football/traditional games workshop by Fabian D'Souza were also held.
The festival itself will be held from 11 am to 6 pm and will include a morlla making workshop by Intesav Barreto, a kotti dance, tiatistache fest and mandos among other things. Traditional games like breaking of the coconut, hopskotch and markbles will be played. Cartoonist Alexyz will be doing a cartoon workshop while artist Clariva Vaz will be showcasing her syringe paintings. Other noted personalities who will be there include Carlos Gonsalves, O'luv Rodrigues, Sanjeev Sardesai, Minguel Braganza, Carolyn Colaco and Prajal Sakhardande. There will also be a Balcaochi Gozali ( stories on the balcony) where veteran musician Joao Carmin Braganza will talk about his life. Apart from this the organisers also invite other musicians to bring their instruments ( non-electronic only) and come and jam up. "The festival is about elders sharing their knowledge with children so that they can carry this forward. The festival will continue to be held every year at Carmel College," says Marius.
And the students are all excited. "They have been busy working on the costumes and are bubbling with ideas on how to make it more interesting," says Mendonca. As with all festivals initiated by Marius, the fest will have no prizes, no chief guests, no alcohol and no sponsors.
EKVOTTACHEM FEST
But that's not all. Continuing the celebration of being Goan, Marius is also organising the Ekvottachem Fest on December 10 at Corlim village. "This is a community festival which will be celebrated by the villagers of all religions and will see them showcasing the heritage of their village. Among the things to look forward to are the rangoli, kotiyo dance and zagor, a traditonal folk dance of Goa. Visitors will also get to sample authentic home cooked food while listening to old Goan songs. "The villagers will also be selling food items like sambhar, pickle, local rice, papad, chonne, kismur, ladyfinger bhajji, shero, prawn curry, mackeral fry and much more," says Marius, adding that this will be his 35th festival.

Festival workshops
n Konkani songs workshop - Glenis Mendonca
n Dance workshop - Clizma
n Ghumat workshop - Pandurang Phaldessai
n Football/traditional games workshop - Fabian D' Souza
n Tiatr workshop- Michael Gracias
n Morlla workshop -Intesav Baretto
n Theatre, voice workshop - Gemma Fernandes
n Traditional games workshop- Agnel Dias and Olav Gama
Related news