Plastic bags banned for Dec 8 feast of Immaculate Conception in Margao
The Margao Municipal Council has banned the use of plastic bags for the forthcoming fair of the feast of Our Lady of Immaculate Conception at Old market from December 8, with the Chief Officer Johnson Fernandes mulling a fine of Rs 5000 on the violators.
Story: the |

goan

|
07th December 2017, 07:45 Hrs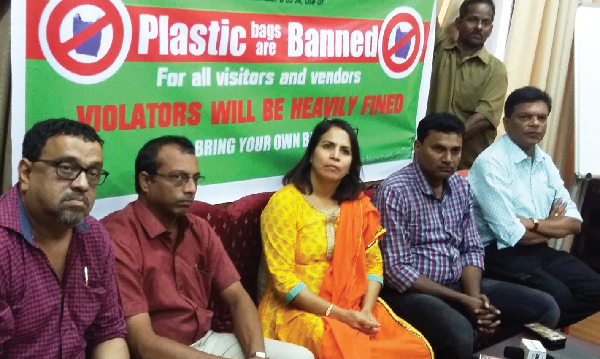 MARGAO

Addressing the media in the presence of the Chief Officer and Councilors on Wednesday, Margao Municipal Chief Officer Babita Angle Prabhudesai said the civic body has decided to ban plastic bags for the ensuing sevn-day feast fair, beginning on December 8 to contain the plastic menace. She said the contractor, who has bagged the contract, to allot stalls for the vendors, has been told to convey the message to all the vendors and hawkers to strictly follow the plastic ban. "We have decided to ban plastic bags during the feast fair as we were told by people that a similar ban on the fair at Pillar had helped to contain the plastic menace," she said, adding that a similar ban will be imposed on all fairs coinciding with religious events taking place in the city.
The Chairperson pointed out that plastic ban will be gradually extended to all the exhibitions taking place in the commercial capital in future. "What we have observed that plastic waste and litter is left behind at the venue of the exhibitions in the city. Ban on use of plastics will also be extended to the exhibitions in due course of time," she added.
Replying to a question, the Chief Officer said that goods, especially ready-made garments, which come wrapped in plastic bags, will be unwrapped before they are sold to the customers. "The Municipality will station big-size bins only to collect the plastic bags and plastic material at the feast fair so that the plastic waste does not get mixed with other waste," he said.
To another question, he said the municipality will draft its officials to keep an eye on the violators and issue challans. "The fine will be imposed as per what is prescribed in the Act. I think the prescribed fine is around Rs 5,000," Johnson said.
Related news