'Life is the raw material for fiction and non-fiction'
In Goa currently to participate in the Goa Arts and Literature Festival 2017 that opens on December 7, writer Jerry Pinto speaks to #TGLife about the birth of his award winning book 'Em and the Big Hoom' and what is it that compels him to write and express on a day-to-day basis
Story: BHARATI |

PAWASKAR

|
07th December 2017, 07:06 Hrs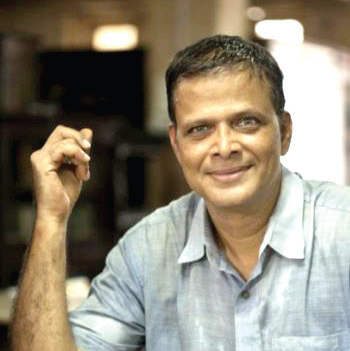 #TGLIFE: Tell us about the process of writing that went in your first novel, 'Em and the Big Hoom' that won so many awards after it was published in 2012. You began that novel when you were a teenager. What took you years to complete it?
Jerry Pinto: I suppose the process was like writing anything else; except that in this case, it went deeper and took longer. I decided when I reached the age of 40 that I should really clear the decks and get to work on the novel; so I gave up the day job that I had and settled down to work. I wrote every day, a thousand words, and after that I kicked back and relaxed. Sometimes the thousand words came easily and sometimes they had to be dragged out as if I were pulling teeth. Then I gave myself six months off and came back to read it with a fresh pair of eyes, to see if I had written something of any merit. I discovered that in the lakhs of words I had written, I had the germ of a novel and I worked outwards from there. The process took years.
Does this novel mirror the reality of your own life?
JP: I don't think we can write about anything but ourselves and our lives. This is the raw material of fiction and the raw material of non-fiction as well. It's just the label that you put on it. I am not ashamed of the fact that I drew on my life to write my book but I want to re-emphasise that I wrote a work of fiction. So 'Em and the Big Hoom' is 95 per cent fact and 95 per cent fiction. It is a simultaneous equation that is allowed in the world of books and writing.
You have worked in the area of financial literacy; then you won the $150,000 Windham-Campbell Prize. What was your response to it?
JP: I think it wasn't the money that mattered so much as it was the recognition of the book. In India, 'Em and the Big Hoom' was seen as a catalyst for conversations around mental health. I am proud and pleased that it should have done that. But here, the award came to me because of the writing and that meant a great deal to me.
What is it that acts as a trigger for a writer to pen down stories (true or fiction) and poetry? Is it their own life which compels them to find expression through writing?
JP: I suppose writing is a habit like any other. You begin incautiously because you think it might be fun and you discover that it is more than fun, it is magic. Then you get caught up in the magic but you discover that the fun part is only the beginning; now you must get down to the serious stuff, the craft of writing, of making the words come close to what you wanted to say in your head. They never do; they are always a pale shadow of the great big brilliant idea you had in your head. You get used to this and you wonder also whether getting used to it is a slippery slope and you should still be trying to get back to the primal wonder of the idea.
You are a voracious reader and a committed writer. You say you write because you can't dance or sing. Did you know you are good at writing when you chose to be a writer?
JP: I began to write only because a friend of mine Rashmi Palkhivala had faith in me and encouraged me to write. I would never have become a writer had it not been for her. I would have continued to be a teacher of mathematics and I would, I suppose, have not been unhappy. So, no, I did not know I would be good. As for the dancing and singing, I often think of music and movement as such integral and beautiful human things, so easily translated across cultures, so intrinsically what we do and who we are, that I should have liked to be a singer or a dancer. But I am not and that's all there is to it.
Can books bring the divided world together? Do words have power to bind the fractured humanity?
JP: What else can?
Related news