Music offers catharsis: Vaishali Samant
Singer, lyricist and music composer Vaishali Samant was in Goa for a performance at the third edition of 'Youth for Tomorrow' - 2017 organised by Adventz Group and Zuari Agro Chemicals Limited at Institute Menezes Braganza, Panaji. In an interview with THE GOAN, she talks about today's youth, their aspirations and her own journey in music
Story: BHARATI |

PAWASKAR

|
03rd December 2017, 03:49 Hrs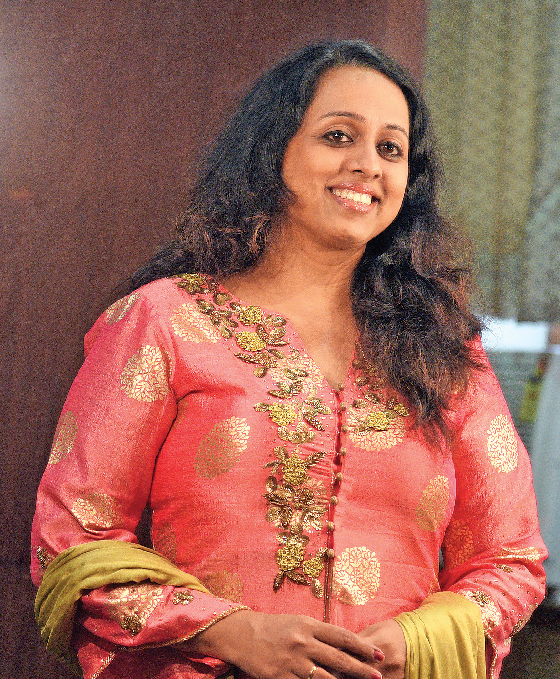 What does one require to become a good singer?
All you need is confidence within yourself. A good singer becomes one when someone likes what he or she is doing. Put your heart and soul into whatever you do, put your 100 per cent. For the people to like your work, one has to work painstakingly. The journey to success is a long one and not easy to accomplish.
And what makes a singer professional?
A singer is called professional when you can sing a given song in a stipulated time. Knowing what to do and how to express through a song delivering it exactly the way it is expected, is what makes you professional. I basically love music. For me every song is different - be it a classical song or an item number - one has to work extensively on each song as each song caters to different mood. The mental makeup of the artist should also match it. Singing should come from the heart and a professional artist can add beauty, something special of his own, to a song that can speak volumes of his own style.
You often talk about 'face value' and 'song value'. Could you explain these terms?
The person listening to my song after 50 years, should ask, who the singer is. I am here for that - to be remembered for my songs. It can become little dangerous if one achieves face value ahead of song value. Of course, there is no harm in getting face value, but it should not overshadow the song value. Those who get face value keep doing shows but can give very little time for their personal growth. The balance should be maintained.
As youth icon, do you find today's youth as committed to whatever they wish to achieve?
Today's youth are extremely talented. There is lot of commitment too. But I am afraid of the 'instant' fame that the youth falling prey to. Because of the social media, today's generation is aware and vigilant but confused too. There are many options but youth must take time to select what they want to do. And multitasking is the key word. I too follow this. I do lyrics, composing and singing. You may be into any field, you have to explore possibilities and exploit your potential.
What is the role of a guru in the life of a performing artist?
Pandit Manohar Chimote is my guru and though I have learnt only classical music from him, a guru shapes the way of thinking of his disciple.He always warns me not to think small. Think big, think global. He says, a person does not become great if people around him think of him as great. It is the world who should call a person great. My mother is my guru too. She keeps me grounded all the time.
Define music
Music has power to bring peace and harmony. It is a universal language that every heart understands. I believe that music brings emotions, the barriers and walls in between societies. It evokes emotions. Music offers catharsis which is very important, it makes you humane.
Your message to the
youth of India
Have patience, focus on your goal and keep on working on it. Tell yourself, this is not my ultimate goal, but I have a much bigger, higher goal. So keep trying. Be humble. Decide your own lifestyle. Live simple. See, I am a queen when I am on the stage, but the moment I get down, I am just an ordinary person who may walk on the street and buy vegetables.

How much time do you devote to Riyaaz?
Whenever I get time. Sometimes it's reverse. We sing continuously and there's no breathing space in between. So not to sing for some time and give rest to your voice, is also a kind of Riyaaz. Suppose I have to sing a rock, or a western tune, I practice the notes. If I have to sing hard core classical, then I work on 'Ragdaari'. My Riyazz goes on. But suppose I know I have to sing for four hours in a show, and it's going to exert my voice, I give my voice a rest.
Related news