Stop using power generated by coal, Parrikar tells opponents
15th November 2017, 02:07 Hrs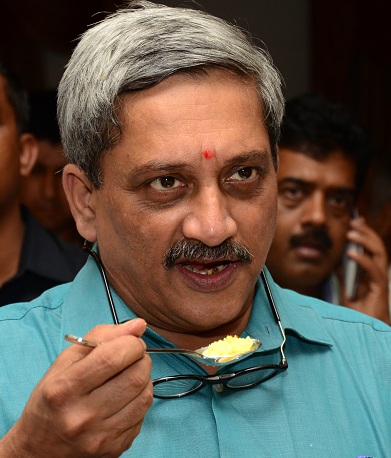 the goan I network
PANAJI
Taking a dig at Goa Against Coal (GAC), Chief Minister Manohar Parrikar has stated that those who are opposing coal should first stop using the power generated by coal. He said instead of opposing coal, people should be against the pollution created
by coal.
He also questioned on the consequences if the States generating coal power stop supply to Goa.
"If any group is against coal, they should first stop using power generated from coal. You should be against pollution created by coal and not against coal because today's fact is that coal is major source of energy in India. People don't want nuclear energy because of accidents and solar energy cannot be seen as a replacement. People also do not want hydro-power because it concerns the environment. And nobody wants to conserve energy also. What if the those generating coal power stop power supply to Goa citing health hazards", he asked.
He was addressing the gathering at the laptop distribution function under the Cyber-Student Scheme, organised by the Info-Tech Corporation Goa and Directorate of Education.
After much delay, the distribution of laptops to the students of standard XII began on the occasion of Children's Day. Around 50 laptops were distributed to the students of five higher secondary schools in Panaji.
Under the scheme, over 35000 laptops would be distributed to the students of standard XI, XII and those who have passed XII and taken up higher studies.
Speaking earlier, Education Director Gajanan Bhat warned students against misuse of laptops.
"The laptops of students misusing them would be confiscated", he cautioned.
Related news