8 booked for drunken driving as Vasco traffic police hold drive
Story: the |

goan

|
14th November 2017, 04:34 Hrs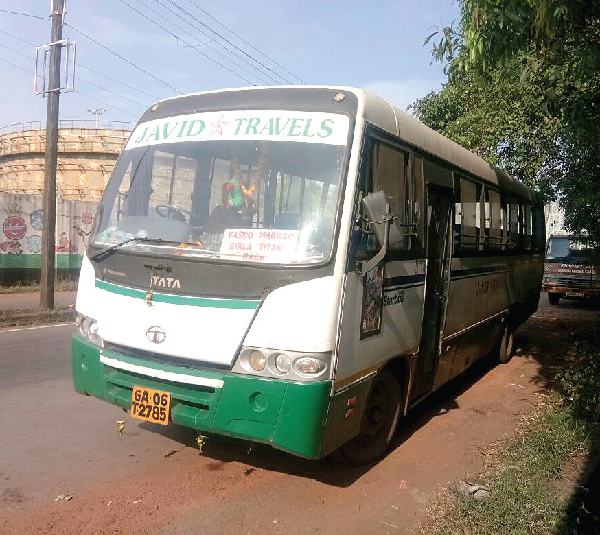 VASCO
Vasco traffic police started a special drive against drunken driving and booked eight cases and attached a bus in Vasco.
Speaking to reporters, PI Traffic Vasco Roy Pereira said on Sunday afternoon, a person was stopped at Bogmalo road, but he refused to stop, disobeyed traffic signals, before dashing PSI Raddat Shaikh.
"His test revealed 100 ml of alcohol and he was later taken to the police station and an offence was registered," said Pereira.
In another incident, a bus plying along the Vasco-Margao route was attached, after the driver was found driving under the influence of alcohol. "When asked for the papers, he could not provide the papers and hence the bus was detained," informed Pereira and added that action would be taken after verifying papers including the permit.
According to sources in the transport department, the permit of the bus to ply along the route had expired and an application was made for renewal by the bus owner. However, the matter is being investigated by the Vasco Traffic Cell.
Plans afoot to shift all buses to new KTC bus stand: SP Traffic
VASCO: Admitting there had been staff shortage in traffic cells across the State, SP (Traffic) Dinraj Govekar also said plans are afoot to shift all buses to the new KTC bus stand and to make Vasco market only a halting point for passengers.
"There is shortage of staff in every unit and wherever there was shortage, staff from other places have been brought and this is an ongoing process. Recently, we have been given 10 lady PSIs and we have chalked out a programme and they will be deployed in various traffic cells including Vasco."
"We have also requested the headquarters to transfer some staff to Vasco traffic cell," said Govekar.
"We will train them for exposure as well as for traffic regulation in Vasco."
Govekar also said the city has expanded and does not have space. "After the new KTC bus stand is developed, there is a plan to shift all the buses there, after consulting the higher authorities and Vasco market will be only a halting point to pick and drop passengers," informed Govekar.
Related news