MPT moves HC to declare WISL dry dock, MV Qing as wrecks
The Mormugao Port Trust (MPT) has petitioned the high court to declare the abandoned 'MV Qing' ship and floating dry dock of Western India Shipyard Limited (WISL) as 'wrecks', after the management and owners failed to respond to their communications.
Story: the |

goan

|
11th November 2017, 06:47 Hrs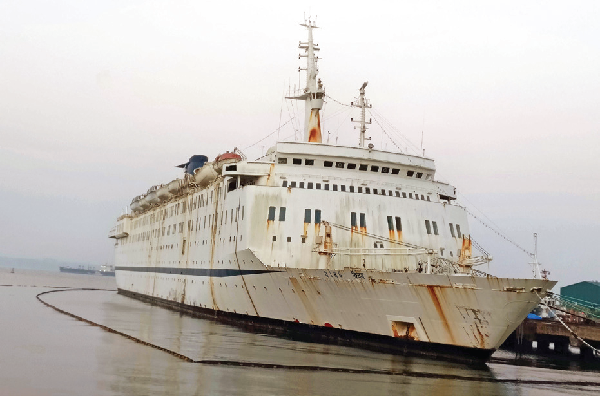 VASCO

Speaking to The Goan, MPT Chairman I Jeyakumar said three attempts by the high court to auction off the vessel had failed to find a vendor.
"The MPT has now approached the high court with a proposal to declare the ship and floating dry dock as 'wrecks'. We will dispose off the vessel and from the sales, we will deduct port dues and give further proceedings to the court and the court can further decide how they want to tackle further issues," said Jeyakumar.
Jeyakumar further said oil in the vessel was safe and that, the vessel was stuck on the seabed. "Our intentions are that oil should be disposed before next monsoon. The vessel is safe and oil booms are placed around the vessel," he said.
"Since we have not got response from the WISL management and lot of legal issues are involved, we want directions from the high court so that, no one should later interfere if we go ahead with the auction. We plan to liquidate the issue before the expiry of lease on April 2018," said Jeyakumar.
Asked what plans MPT had after the lease expires, Jeyakumar said: "The MPT may have to go for bidding of the berth for ship repair yard."
"This region requires ship repair yard after Mumbai, as many ships and big barges look forward to repairs and dry dock. Ship repair business is a big growing business opportunity," added Jeyakumar.
To another query if MPT had any plans take over the berth and run a ship repair yard, Jeyakumar replied: "Ship repair is a specialised field and MPT intends to offer the berth to companies who may be interested in establishing a ship repair yard."
"Cochin shipyard has shown great interest in having a ship repair yard in this region. There are many companies which may want to participate in the bid for berth allotment. We will go for bidding by March 2018," informed Jeyakumar.
Related news