Exploring the dot
The Foundation for Indian Contemporary Art (FICA) in collaboration with Serendipity Arts Trust (SAT) organised a workshop 'Anatomy of a Dot' for the students of Auxilium School, Caranzalem, under the guidance of visual artist and educator Nilanjana Nandy. Nilanjana tells #TGLIFE more
Story: CHRISTINE |

MACHADO

|
11th November 2017, 05:48 Hrs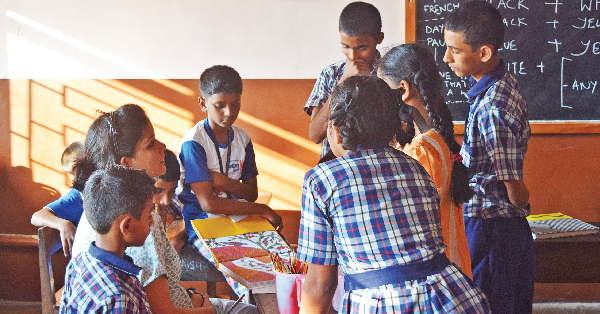 How exactly did you go about conducting the workshop?
This workshop is one of the modules from the book 'For the Love of Art' which introduces contemporary art to children. Through the workshop I have taken examples from art history but connected them to something that this age group would know. I am bringing in dots in different artist's work and making the students aware of the artist's work, the background and so forth. For instance, how dot is used in folk art like the Australian Aboriginal art or the Godh art in Gujarat or how dot is used as polka in the pop art of the 1960s in US. At the same time, since the theme chosen is 'My Goa' I thought I could also get to know what their version of Goa is through this workshop.
You looked at how the dot has been explored by artists. Could you give us some examples?
To start with, we did an exercise on pointillism which began in the 19th century when French artist Georges Seurat took up this technique 'neo-impressionism'. We then also spoke about a line by a Swiss-German artist Paul Klee. He once said, 'a line is a dot that went for a walk'. This was followed by watching a video by American animator Charles Martin popularly known as Chuck Jones on line and dot. Another thing I focused on was India's very famous contemporary artist Bharti Kher who did a popular series where she has used the bindi.
Have you done previous workshops on the idea 'Anatomy of a Dot'?
I have. I believe this workshop works well with all age groups for the simple reason that the unit i.e. the dot looks very simple and not at all intimidating. If and when I do a workshop which is with a slightly higher age group then I bring in the concepts of atoms, black holes, trans-disciplinary concepts. With the children between the ages of 10 and 13 years old I stick with maths, science concepts, punctuation marks etc.
Has the interpretation of the dot changed across centuries and cultures? How?
Yes absolutely, traditionally the dot was a mark making exercise and it was used as a very decorative purpose which revolved around a ritual. Based on the ritual the size of the dots changed. Conceptually the dot was related to the ways of thinking about their immediate environment, the material as well included natural pigments and they were of frugal means. The indigenous people never had fancy stationery shops to pick up stuff.
You have been involved in art education for a while. What are some ways that we can further this in the country?
While we have art education, the difference is the manner in which we practice art and the way we teach art, sometimes there are gaps. Art is 360 degrees, it can help a child learn, as it overlaps with mathematics and science. Any steam of information and knowledge is not compartmentalised, so it is always nice to have them overlapping. Also, children do not need that one constricted art room every time to work on.
Tell us about your biggest learnings on working with children.
With children we are learning all the time. The way they make sense of the world, apply logic and solve a problem is different. The best part of children is that they are willing to make a mistake as the fear is less. Also, you cannot judge the amount of learning that is going to take place. A child's learning is very organic. I as an educator I create a lesson plan which may have its verticals and horizontals, but the child learns in a very organic manner and every day is a revelation of how they make connections and the outcomes.
Related news